Ospreys tan ban proves a winner, says Sean Holley
Last updated on .From the section Rugby Union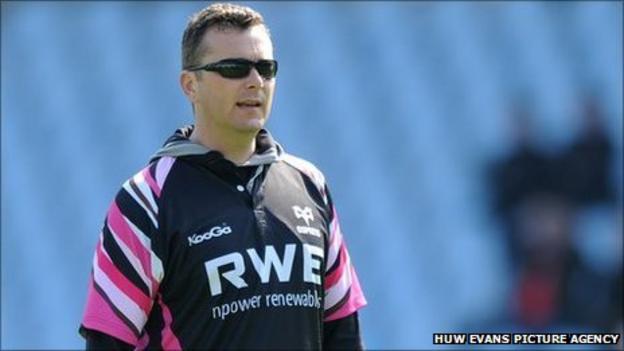 Ospreys head coach Sean Holley believes moves to shed their Galacticos image are working on and off the field.
The region began the process ahead of the 2010-11 season by, among other things, banning players from wearing coloured boots and applying spray tans.
And with six Pro12 wins from seven starts this term, Holley says the policy is paying dividends.
"We want our supporters to see that our players work hard, that they're not flash in any way," said Holley.
The Ospreys host west Wales rivals the Scarlets on Saturday hoping to underline their credentials.
Holley told the Daily Telegraph: "The fake tan and the coloured boots and the Galacticos label doesn't interest us really.
"We've banned the tan. It's real tan only.
"And you are only allowed to wear coloured boots if you've played over 50 times for the Ospreys or over 15 times for your country.
"We feel that you have to earn the respect, you have to earn the right to do something."
Ospreys' elite performance director Andrew Hore has previously stated that seeing some star names leave during the last 12 months has helped the squad's culture evolve.
Mike Phillips, James Hook and Lee Byrne are playing in France after returning from Wales World Cup duty.
New Zealanders Jerry Collins and Marty Holah have also departed.
The Ospreys also saw former player Gavin Henson sign for Cardiff Blues following their own "courtesy" talks with him.
Holley believes their fans appreciated the change of emphasis within their ranks.
He said: "We haven't played brilliantly at some point in the season so far, but we've been really tenacious and worked really hard and dug in and showed a lot of character. And I think the supporters are responding to that.
"It's an honest group that we've got and the players that we have there now, that we've re-signed and kept and the young players that are coming through have some values and virtues that we really like."