The final chapter in the book of John Smit
By Chris Osborne
BBC Sport
Last updated on .From the section Rugby Union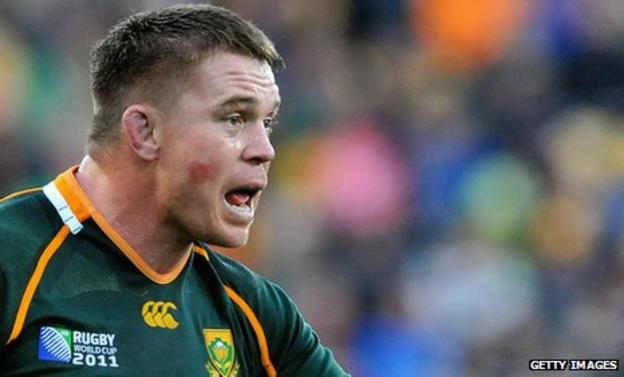 Defeat by Australia in the quarter-finals of this year's World Cup may have ended South Africa's interest in the competition this time around.
But it also put paid to one of the most illustrious international careers of all time.
That exit at the hands of the Wallabies in New Zealand was John Smit's 111th, and final, Test match.
He retires from the global scene as South Africa's most capped player, most capped captain (83) and most capped hooker (96). In fact, no other player in the world has captained their country more times than the 33-year-old.
And, lest we forget, he lifted the World Cup in France four years ago.
But Smit, by his own reckoning, still has a lot to give. And it will be his new club Saracens, the Premiership champions, who will be benefiting from his last hurrah in the game.
"I hope to finish my career here," he said. "I certainly think this is going to be the last rugby chapter for me.
"It certainly has been a light at the end of the tunnel since the World Cup. Getting knocked out with a team who had a chance of winning it was devastating.
"But you realise you've got another chapter coming."
Six weeks have passed since South Africa failed to defend their world crown, but Smit's commitment to walking away from the Springboks remains unflinching.
"One's never happy to retire but I certainly don't have any regrets," he explained. "And I don't feel sad about the fact I won't play for South Africa again.
"I've been really lucky to play 111 times for South Africa. My time there is done. Hopefully the team will go from strength to strength.
"But it's more of a relief to be at Saracens and focusing on one thing."
One man who may have grounds to question the rugby gods after Smit's arrival is Schalk Brits.
The Springboks hooker berth has been dominated by the man from Polokwane, restricting Brits to three caps, despite being rated as one of the world's best at playing between the props.
And Smit, , is expected to continue the Saracens' tradition of sharing positions between players, by rotating with his countryman.
"I've been in a similar situation with Bismarck du Plessis back home the last few years," he explained.
"Having a number of players in certain positions is probably the only way of having a sustainable squad.
"I've known Schalk for quite some time. He was one of the first guys to text me to say 'welcome to Saracens'.
"I'm certainly not here to compete with the guy. I'm here to contribute in every way possible.
"I think he's also a bit relieved he doesn't have to play all the time as well."
The former world champions and Saracens go hand in hand. The club, who boast a squad rippling with 12 South African-born players, will play a Heineken Cup match in Cape Town in January.
But they are not factors that sweetened the deal for Smit.
"A lot of people ask 'are you going to Saracens because of the South African flavour of the club?' And the real answer is 'no'," he said.
"It helps fitting in but, if I wanted a South African experience, I would have carried on playing at home."
And Saracens fans will be glad he has not.