Wales confirm tour to Australia
Last updated on .From the section Rugby Union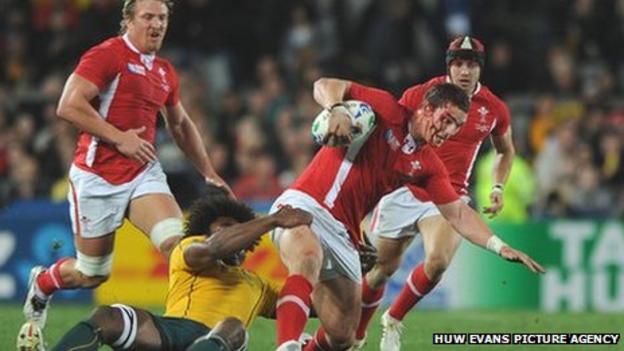 Wales have confirmed they will play a three-Test tour of Australia next June.
Wales will get their first chance for revenge on 3 December when Australia come to Cardiff for a one-off Test.
Then the Wallabies will turn hosts, with the first encounter set for 9 June at Brisbane's Suncorp Stadium, followed by Tests on consecutive Saturdays in Melbourne and Sydney.
It will be the first time since 2001 - when the British and Irish Lions toured Australia - that the Wallabies will play a European heavyweight in a three-Test series across the June window.
Welsh Rugby Union group chief executive Roger Lewis said: "Wales and Australia were two of the best teams in the 2011 Rugby World Cup and it will be a mouth-watering opportunity for fans to see the two sides lock horns again.
"The Welsh fans proved that they are fantastic travelling support when they turned up in New Zealand, creating a sea of red at all Wales' fixtures.
"We are hopeful that the loyal expats will do Wales proud again when they have the opportunity to support the Welsh team next summer.
"It is an ideal opportunity for Wales to be tested against one of the best teams around and challenge on a world stage.
"It will also be a fantastic experience for any Welsh players who are seeking to travel back to Australia with the British and Irish Lions the following year."