Chris Ashton backs Martin Johnson to remain with England
Last updated on .From the section Rugby Union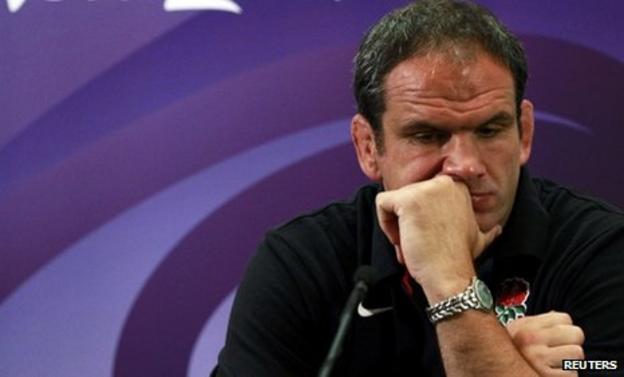 England winger Chris Ashton is the latest player to back Martin Johnson to remain as manager of the national team.
"He's the perfect man for the job," Ashton told BBC Radio 5 live.
"He's very inspirational, which those who played with him, around him and played under him, would say."
Fellow wing Mark Cueto, flanker Tom Croft and full-back Ben Foden have also all backed Johnson in recent weeks.
However, former England captain Will Carling told the BBC in October that he expected Johnson to quit and tipped Nick Mallett, who was in charge of Italy until the end of the World Cup, to take the position.
The RFU has yet to make a decision on Johnson's future although it did announce on Wednesday that acting chief executive Martyn Thomas would be leaving his post when his contract ends next month.
Meanwhile, Northampton's director of rugby Jim Mallinder declared he would be interested in managing England earlier this week.
Ashton, 24, said of his club boss: "Jim is quite a straightforward coach and a great bloke and will do well there, but Johnno's still in that position."
The Saints player also admitted that teams had surprised England at the World Cup, which may have resulted in the below-par performances.
"It started with first game against Argentina," he added.
"We struggled to get into the game and get going. From then on we realised teams were going to give us more of a run for our money than we thought.
"Perhaps we played a little bit tight - we didn't play wide and fast. Maybe it was in the back of some players' minds that we had to play more conservatively."