Leicester's George Chuter hopes to hold off Tom Youngs
Last updated on .From the section Rugby Union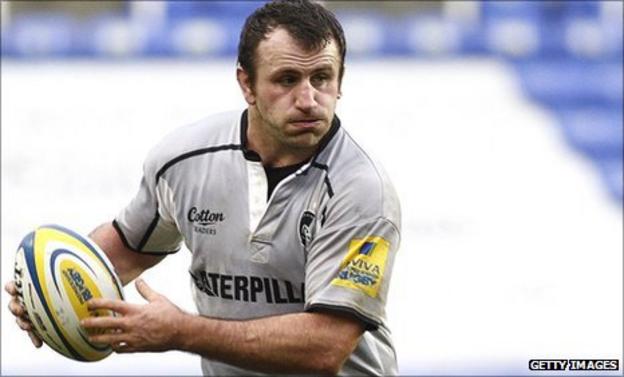 Veteran Leicester Tigers and England hooker George Chuter believes Tom Youngs may be the ideal man to replace him at Welford Road - but not yet.
He told BBC Radio Leicester he wants to play for another "couple of years" but knows he faces pressure from Youngs.
"I'm not one to rest on my laurels anyway but Tom is going to be a very good player - and already is. He's a fantastic prospect," Chuter added.
Youngs, 24, certainly has the rugby background.
He is the son of former Leicester and England scrum-half Nick Youngs, and his younger brother Ben is the current England and Tigers number nine.
Youngs, who started out as a back before converting to the front row in the 2009-10 season, has made six Premiership appearances off the bench this term and Chuter has been impressed with what he has seen.
"He has the pedigree of being Nick's son and the mentality, temperament and the desire," Chuter said.
"Before he moved to hooker he was a good player at centre. He has moved into the front row and so far so good. He has really started well, he is keen to learn which is key for any young player and any guy changing position.
"He has had to get his nose to the grindstone and work and he does that tirelessly. He comes off the bench and makes a good impact."
Chuter, who went to school in Croydon and played the early part of career with Saracens, is proud of reaching his landmark 250th game for the club last month.
"It is quite special," Chuter said.
"It's not something I ever really aspired to when I was kid as I did not grow up in Leicester. I spent the first few years playing for Saracens against Leicester.
"But it is something I am really proud of and I hope I have another couple of years yet to top that up.
"It just shows how old I am. I've been playing this game a long time and if you stay healthy and keep your game as high as you can, you will get the appearances.
"I think durability has been a real strong point and that's another stat I am pretty proud of."