Ayoola Erinle lured by Nottingham's ambition
Last updated on .From the section Rugby Union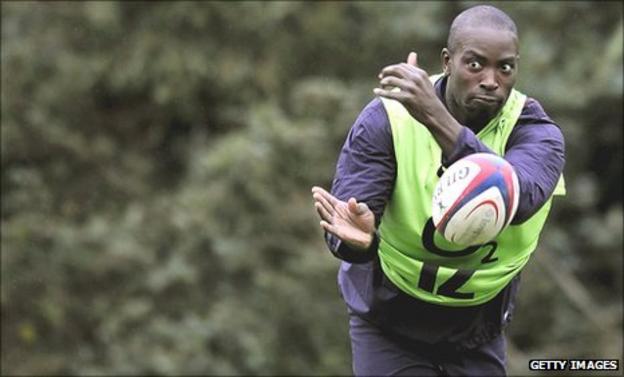 Ayoola Erinle rejected offers from the Premiership to stay at Nottingham because he has enjoyed his time so much and is impressed by their ambition.
The ex-Leicester Tigers and England back initially joined the Championship club on a pay-as-you-play deal.
But last week the 31-year-old centre signed until the end of the season.
"When opportunities did arise to go elsewhere, I turned them down because I like the club, ambition and potential," Erinle told BBC Radio Nottingham.
"What was originally a short-term quick-fix has turned into something a bit more permanent and hopefully, watch this space, we'll go on to bigger and better things."
Erinle, who moved to the Meadow Lane club after leaving left Biarritz in the summer, added: "You need continuity and stability and this club has been great at providing that for me. It's exciting times."
The towering back, who won two England caps soon after leaving Leicester Tigers to move to France, is relishing playing back in England.
And Erinle is also happy to be reunited with director of rugby Glenn Delaney, who he played under during a loan spell with Nottingham in 2009.
"Glenn is a good coach and a good man as well, which helps," Erinle added. "It's one thing to be a good coach but they are not always good guys, and he's a great guy. There is still a sense of enjoyment as well as hunger."
The Green & Whites have struggled for consistency this season, winning four and losing four of their opening 10 Championship fixtures and are only in eighth spot in the table.
But Erinle remains positive in his outlook - especially as they only need secure a top-eight finish to move into the end-of-season play-offs.
"We are a team that can make a good challenge for the title," Erinle said.
"Glenn and the backroom staff have got a good squad of players and hopefully we can build up some momentum."
Erinle is also enjoying the style of play.
"The club play with a bit of ambition," he added. "It's not 10-man rugby. They play with width, the Notts County stadium is really good and the quality of the pitch is great. It's a good bunch of lads as well. It makes playing enjoyable.
"The reason why you play sport professional is because you enjoy it. You are in a great position to actually do something for a living which you enjoy. That was probably the biggest thing that drew me back here and made me want to stay."
But was he not tempted by the lure of playing Premiership again instead of dropping down to the second tier?
"A few months ago, yes," he said. "As a professional - there is always an ego to you no matter how down to earth you are.
"To be successful in sport you have to have a certain amount of ego. But then as you grow older and wiser, it's more for the enjoyment of the game. I've played here before, and with Henley in the Championship a few years ago. It's nothing new or strange.
"The pace is still pretty quick, the quality of the players is great and there is probably not quite the same pressure-cooker of playing in the Premiership.
"But there is still that hunger and ambition. It's not a back-seat ride here - it's a club that wants to go forward. It's not really that big an issue, it's just a matter of re-adjusting.
"As far as ambition, this club is ambitious and hungry as they get."