Heineken Cup: Heineken Cup debut excites George North
Last updated on .From the section Rugby Union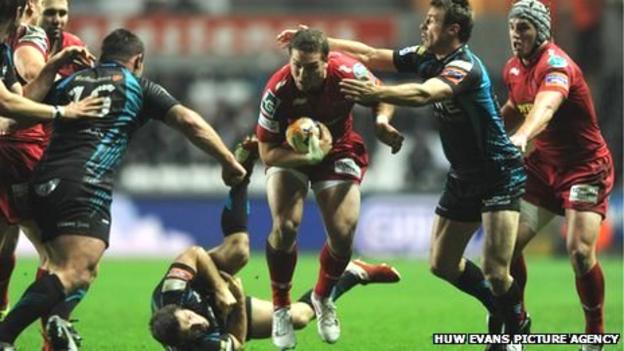 Scarlets' teenage wing George North admits he has done things "in the wrong order" as he prepares for a Heineken Cup debut against Castres on Saturday.
The 19-year-old has scored nine Wales tries in 15 appearances, including three as he starred at the World Cup.
North said: "I think I've done it in the wrong order, haven't I?
"I did the whole regional thing first, then missed a bit, then gone to national and then come back to the European [Cup]."
North was injured for the Scarlets' European campaign last season but the powerful runner had already made an impact for the Llanelli region in the league.
The north Walian's sensational two-try Wales debut in defeat by South Africa in November 2010 gave coach Warren Gatland confidence that he should give the rookie a World Cup chance.
And North impressed in New Zealand and was one of Wales' star performers as Gatland's team finished fourth.
Now he is looking forward to the chance to take that form into Europe.
The Scarlets have not qualified for the Heineken Cup's knockout stages since making the 2007 semi-final but Nigel Davies' men are hoping to resurrect their impact as a European force.
North also believes the Scarlets' fellow Welsh regions can benefit from Wales' showing at the World Cup while he faces up to the challenge of being a marked man.
"I'm looking forward to it," said North.
"It's my first game out here [Parc y Scarlets] on the European stage and it's something every professional player wants to experience.
"Everyone tells me it's the second season that gets them, but hopefully I won't experience that.
"But obviously I have been making a bit of a fuss so hopefully I can get away with it again.
"I doubt it, but obviously I've got to work a bit harder this year and work harder to get around the park a bit more.
"It's something I'm really relishing.
"We had a lot of boys in the Welsh squad so hopefully the professionalism we bring back will hopefully push the region forward.
"The boys here have done a really good job themselves to keep us up in contention and hopefully with a mixture of the World Cup experience we can do well.
"I think it will be the same for most of the regions.
"It's been... a hell of a year [for me], to be honest.
"It's been a funny one - I'm not sure too many people could have said at the start of it 'this is what is going to happen and would you think you'd be in a World Cup at the end of it'?
"I couldn't have asked for anything more."
North returned for the Scarlets as a replacement in their 9-9 Pro12 draw at the Ospreys on Saturday, helping earn the late penalty Stephen Jones kicked to level the scores.