Eliota Fuimaono-Sapolu loses appeal against ban
Last updated on .From the section Rugby Union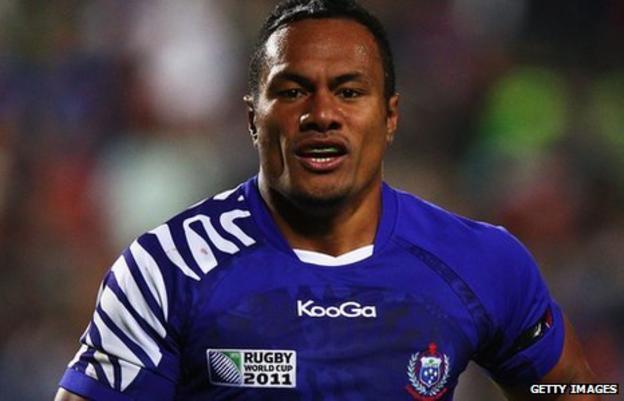 Gloucester and Samoa centre Eliota Fuimaono-Sapolu's appeal against his suspended six-month ban for comments made on Twitter has been rejected.
Fuimaono-Sapolu, 31, attended a hearing in London last Sunday in response to the ban, suspended for two years, for comments made during the World Cup.
Fuimaono-Sapolu accused referee Nigel Owens of racism and bias after Samoa's defeat by South Africa.
He was charged with breaching the Rugby World Cup code of conduct.
Following his accusations on Twitter, Fuimaono-Sapolu was told he had to apologise to the Welshman, complete 100 hours of community rugby work in his homeland and attend a refereeing course.
One of the conditions of the International Rugby Board ban was that Fuimaono-Sapolu did not make any public criticism which resulted in a proven misconduct offence regarding a match official, the IRB or the disciplinary process.
He was warned that failure to comply with this condition would automatically activate the six-month suspension.
Fuimaono-Sapolu has also been served with a three-week ban by the Rugby Football Union for remarks on the social media network.
The RFU found the player guilty of making "critical or sarcastic comments" about the rugby disciplinary process, World Cup and IRB, although charges relating to remarks made about Saracens's Owen Farrell after their game on 29 October were dismissed.