Former England players back Mike Tindall after RFU punishment
Last updated on .From the section Rugby Union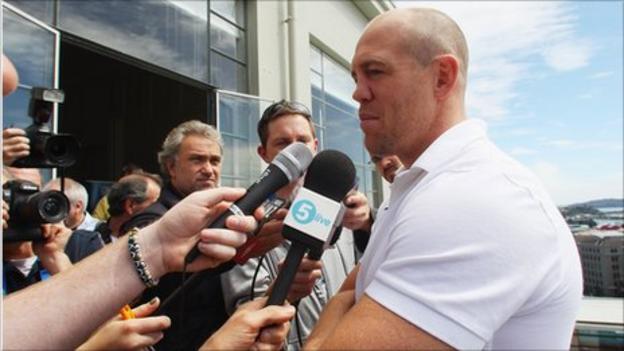 Mike Tindall has been backed by three former England players after being dropped from the national squad because of his World Cup conduct.
Will Carling, Martin Bayfield and Austin Healey criticised the Rugby Football Union's (RFU) decision.
Ex-England lock Bayfield tweeted: "Mike Tindall's punishment is laughable; too severe & far too late. Horse hasn't just bolted, it's died of old age."
Writing in The Sun, Will Carling said: "To me, this all smacks of a witch-hunt and I think it very unfair that Mike Tindall has been made a scapegoat for all of England's off-field problems.
"It is an incredibly harsh punishment and I'm just hugely confused by the whole thing."
Tindall, 33, was filmed on a raucous night out in Queenstown during the competition in September.
He later issued an apology for misleading the England management over his whereabouts that evening.
The investigation into the incident which resulted in the punishment was led by the RFU's operations director Rob Andrew, but the fine was described as "extraordinary" by the Rugby Players' Association.
Former England back Healey tweeted: "25k fine is wrong. Tindall has been made a scapegoat.. he set bad example but ...Andrew trying to justify his position."
The removal of the former captain from the Elite Player Squad suggests an end to his 11-year England career, which included 75 caps. He was part of the team which won the 2003 Rugby World Cup.