Rob Baxter urgess Chiefs to repeat their Perpignan form
Last updated on .From the section Rugby Union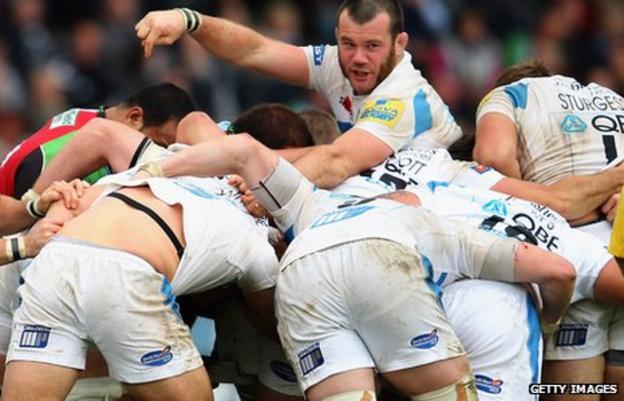 Exeter coach Rob Baxter is urging his side to replicate Friday night's form in France against Perpignan when they host Cavalieri Prato on Saturday.
Despite being edged out 15-12 in Perpignan in their European Challenge Cup opener, Baxter was not displeased with how his side played on a hostile away ground in the south of France.
"There aren't many teams that come here and lose by three points," he said.
"Perpignan were happy to get the ball off the pitch," he told BBC Devon.
"The key for us is not to come to Perpignan and play such a well-known side and put in a very passionate, action-packed performance, then turn up at Sandy Park and not perform.
"We've got to work hard on our scrum. We'll keep moving forward, especially those front-rowers, and they'll be better players for it.
"I know for a fact they'll all be better for the experience.
"I'm going to rattle into the boys this week that, if we lack edge when we play Prato, we'll lose.
"We'll lay down the law about how well we have to play.
"It's a massive game. European competition is it for them. If we don't perform, it'll be a tough old day."
Exeter's second Challenge Cup group clash against Italian side Prato is this Saturday at Sandy Park (19 November, 1500 GMT).