Defence coach Shaun Edwards targets Wales greatness
Last updated on .From the section Rugby Union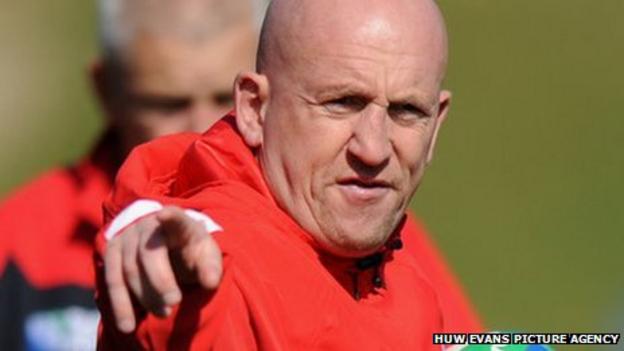 Shaun Edwards says the potential greatness within the Wales squad helped persuade him to accept a new contract.
The 45-year-old has agreed a new four-year deal to continue as defence coach under head man Warren Gatland.
Edwards' Wales contract expired after the World Cup, leaving him a free agent and he had been linked with England.
"Coming back off the Rugby World Cup you can see a lot of potential in the Wales team over the next few years and I want to be a part of that," he said.
"Warren is obviously our boss and we have a pretty tight bunch of coaches underneath him: Me, Robin [McBryde], Rob [Howley] and Jenks [Neil Jenkins].
"We're all loyal to our boss and hopefully we can guide those young players to be remembered as great Welsh internationals, not just as Welsh internationals."
Cardiff Blues chairman Peter Thomas has said he would like Edwards to become their part-time defence coach.
Edwards has not yet ruled out such a role with the Welsh region, but says there has been no firm approach and he is currently exploring the option of a part-time role with an English Premiership club.
"I would have considered it but I've not seen any concrete offer, spoken to my representatives etcetera from Cardiff Blues," Edwards said.
"Obviously I know a lot of the lads already and certainly when the Cardiff Blues, particularly when they've got a full team out, as they proved on Friday night are a force to be reckoned with.
"It's something that I would consider, yeah, but also I would obviously consider staying in the English Premiership as well.
"But there's no guarantee of that because I have to put my name around now and see if anyone is actually interested in that sort of role.
"My base will still be in London even though I'll be spending more and more time in Wales, because I have a 14-year-old boy... and I want to be around for him as well."
Edwards left his role as Wasps head coach in November and there had been speculation linking the former Great Britain rugby league international with England following their disappointing World Cup campaign.
"There was talk of potentially England making me an offer in the future, but I have to live in the here and now," Edwards admitted.
"The England coaches are still in place and I'm not the sort of person who pitches after another man's job.
"What's in the future is in the future and all I'm thinking about is beating Australia on December 3rd.
"I was very impressed by the speed and professionalism, the way [WRU group chief executive] Roger Lewis and the WRU have acted and obviously I'm already very happy in Wales.
"I'm happy with the coaching structure that we have in Wales and happy to be working with a very strong and developing team."
Part of Edwards' remit will now include a hands-on role with Wales' age-group sides, working closely with former Wigan team-mate Joe Lydon, the WRU head of rugby performance and development.
"I'm definitely going to do more with the youngsters now as they build their careers and hopefully towards the end getting capped," Edwards added.
"I'll be doing sessions with the youngsters from 16, 18, 20s, which I'm very much looking forward to.
"It's all about making sure those guys are developing the correct and proper way."