Redruth players and staff to discuss poor away form
Last updated on .From the section Rugby Union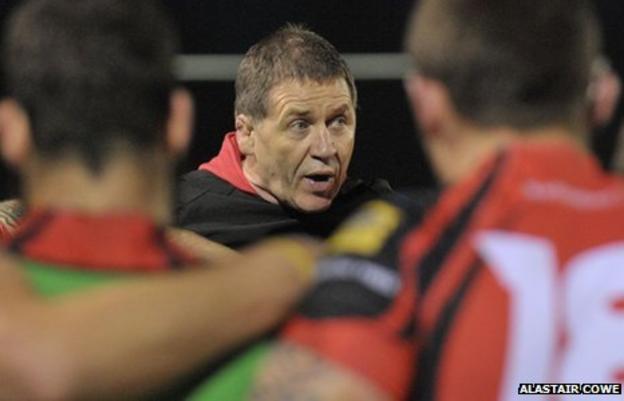 Redruth director of rugby Dave Penberthy will discuss his players poor away form at a team meeting on Tuesday.
The Reds were on Saturday, their third consecutive away defeat after losses at Richmond and Hertford.
"Away from home we seem a bit flat," Penberthy told BBC South West.
"I want to understand what their perspective is on it. I see it from my perspective but I want to get their feel for it."
He added: "They've gone away to think about it and come back and look at the weaknesses that they see.
"We need to strike an agreement and see what areas we need to tweak a bit.
"It's going to be an interesting conversation. We're not pushing any panic buttons just yet, there's 18 games left and we set a target of fifth so we're not far away from that," Penberthy said.
Redruth were relegated to National Two South at the end of last season and are sixth in the table.
But Penberthy says that no matter what league his side are playing in they must tighten up.
"Our defence was shoddy, weak at times, and we've always prided ourselves on our defence. We've got to stop this leaking of 40 points-plus a game on average," he continued.
And Penberthy added that the level of rugby in National Two has risen considerably in the time Redruth were playing in National One.
"If I'm honest the standard in National One was rising quite considerably and with us going through a rebuilding phase we found it quite difficult.
"We've dropped into a league where it's rising and National Two South is the standard of National One three seasons ago, plus there's the added incentive to put one over on Redruth who've been in National One for six seasons."
Redruth have two consecutive home games for the first time this season as they host Clifton and Southend in successive weeks at the Rec.