Cornish Pirates loan out Ryan Westren and Rhodri McAtee
Last updated on .From the section Rugby Union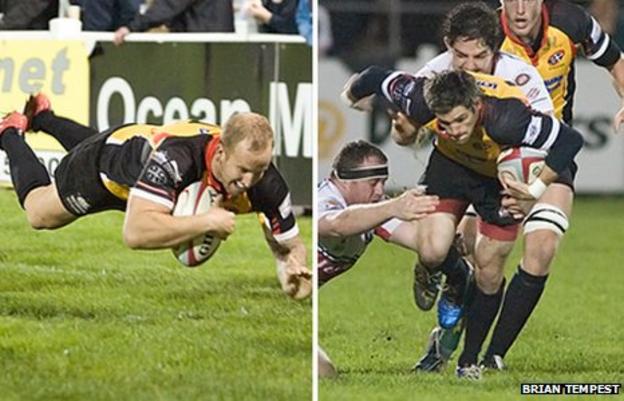 Cornish Pirates pair Ryan Westren and Rhodri McAtee have been loaned to Launceston and Redruth respectively for two weeks.
Redruth-bound McAtee, 27, is a former Wales sevens player who has been at the Mennaye since the summer of 2004.
He has made six appearances in the Championship this season.
Pirates fly-half Aaron Penberthy is already on loan at Redruth from the Championship leaders.
McAtee has also played in all three of the club's British and Irish Cup matches.
"You can't turn quality players down who can bring a huge amount to your side," Redruth director of rugby Dave Penberthy told BBC South West.
"Our backline is in need of a little bit of experience. It's great to have someone of Rhodri's ability and hopefully he'll also bring something to training and bits and pieces like that."
Pirates boss Chris Stirling says he wants his fringe players to get as much time playing as possible.
"It's important that these guys play rugby and it's just an opportunity for them," Pirates boss Chris Stirling said.
"They can impress so much in training but when you're not on the field it's harder. It's rugby and it'll be beneficial to them."
The loans come at a time when the three top rugby clubs in Cornwall are enjoying a close working relationship.
The Pirates have used a number of Redruth and Launceston players in their British and Irish Cup campaign and Stirling is happy to reciprocate.
"It's a fantastic situation," he said. "The working relationship between the three clubs is a credit to Dave Penberthy at Redruth and Launceston's Simon Owens that rugby players in Cornwall can get rugby wherever possible."