Reaction to Martin Johnson's resignation as England boss
Last updated on .From the section Rugby Union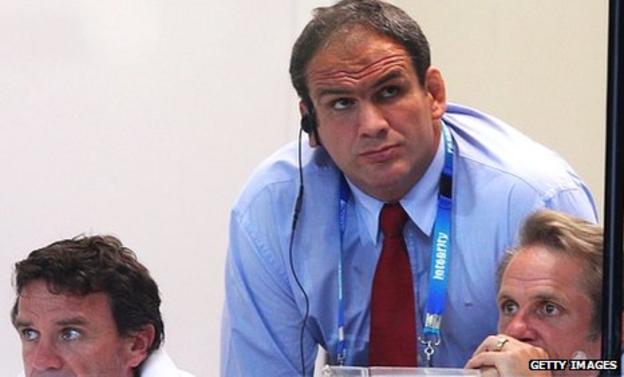 Martin Johnson, an iconic figure in English rugby union, has resigned as manager of the national team after a reign which rarely promised to hit the heights he managed as a player.
But the next three years would bring as many lows as highs and the final act of Johnson's reign was to preside over a disastrous World Cup, both on and off the field.
England failed to make it beyond the last eight in a campaign littered with controversies, and a 19-12 quarter-final defeat by France proved to be his final match as manager.
JEREMY GUSCOTT, 65 England caps between 1989 and 1999
"I'm not surprised. I'm pleased Johnno has broken the silence, he's done the right thing.
"Johnno didn't have the CV to do the job but the RFU backed him and he backed himself and unfortunately and regrettably he came up short.
"The writing was on the wall for Johnno when he selected Steve Borthwick as captain.
"That was what he thought was the right decision and many others didn't, and for many that was the beginning of the end.
"There was a brief highlight in beating Australia away from home and thrashing them at Twickenham, that gave us all expectation of what was to come.
"They won the Six Nations but their performance at the World Cup was abysmal and that was the end."
SIR IAN McGEECHAN, Lions legend and current Bath boss
"He's just a great role model for players and managers. He's done a tremendous amount for English rugby and I just feel there's probably a bit more there still to offer.
"I think it was his decision and you'd have to ask him ultimately why [he's left]. It's just disappointing to hear the news.
"I think we all feel that it's a disappointing day."
MARTIN BAYFIELD, in England second row alongside debutant Johnson in 1993
"He's clearly felt maybe he was disappointed with his own performance. It's very sad and very disappointing and this is not the way he wanted to sign off.
"He was let down by the RFU - he was sent out to the World Cup pretty much on his own. He carried the can for everything. There were officials there, but we didn't see much of them. There's a lot of navel gazing - and key figures like Edwards have slipped through the net.
"Jim Mallinder would be an excellent candidate. Dean Ryan would be someone I'd like to see given some role within the RFU - but is he a high-enough profile figure?
"Whoever they bring in, needs to get hold of [English] rugby and stamp their authority on it. We're hosting the World Cup in 2015 and we need to put on a good show."
DICK BEST, coached England to Five Nations Grand Slam in 1992
"I think the business with Tindall has been part of Martin's decision because it is out of his hands. When you add everything up you think, does he want to be part of this?
"When you look at the crop of players he has had to work with in the last three and half years, there has not been a lot of world-class players to work with.
"We now have to get someone in there and you hope that since they returned from the World Cup they have been speaking to people and have got someone lined up.
"In terms of his successor Nick Mallet has been mentioned. Nick is a strong personality with his own views who was highly successful in South Africa, and anyone who manages Italy must be a saint - we need one of those right now."
PHIL GREENING, ex-England team-mate speaking to Sky Sports
"He needed someone above him to mentor him from above. If he had I don't think we would be in this predicament.
"He led by his heart and how he feels. He will always back the players, maybe he needed to step back from that. Maybe he was too lenient.
"It is a difficult balance, but it is one that you need to get right if you are going to be a successful manager. He can't go back to being an ex-player. We need him. I really do believe that."
WILL CARLING, former England captain on Twitter
"Sad for MJ. The man was an awesome player, incredible captain. One of THE greatest England players/servants. Hope there is a role for him."
ANDY GOMARSALL, 35 England caps between 1996 and 2008
"I'm surprised Martin Johnson has stepped down. It's such a sad day for English rugby.
"He's a legend after lifting the World Cup. He's gone into management and it's ended in disaster.
"I don't think anyone in the right mind will take the job without a secure foundation, and there is clearly not one at the RFU.
"Who is going to make the decision about appointing the best person for the job? Three-and-a-half years ago they didn't get it right. This is our biggest job in rugby.
"Johnno says he's got no regrets. Time will tell. I think he's made a brave decision."
BEN KAY, 62 England caps between 2001 and 2009
"I am disappointed and deflated. Martin Johnson was fantastic in the press conference. He was loyal, contrite and blamed himself.
"Manu Tuilagi and all the players will be devastated. It's very rare for that to happen. Normally, when things go wrong, the players are the first to think 'is this working?'."
NICK EASTER, played for England at the World Cup in New Zealand
"I firmly believe he was the man to take England forward into the next World Cup.
"I always backed him, I thought the experience he garnered over the last three years would have strengthened the oncoming England team but for his own reasons you've got to respect that he's obviously decided to step down from his post.
"He has obviously been under a lot of pressure from what happened at the World Cup. It didn't go according to plan and the players are obviously very disappointed, as well as the coaches and Martin.
"It boils down to what we players did on the pitch. Once you're on the pitch the players have got to make decisions and perform - and we didn't perform.
"So you know, I think [the blame] lies firmly at the player's door, people might like to speculate what went on elsewhere but for 80 minutes we didn't perform in that quarter-final."
JAMES HASKELL, played for England at the World Cup in New Zealand
"Martin was a top manager. There were issues but I don't think they were anything to do with his own making.
"He gave me a lot of opportunities in my career and I've only got good words to say about him. It's a real shame for English rugby that he's not in charge any more.
"I'm not going to start pointing fingers. It's important to let the dust settle. Obviously the World Cup didn't go as we wanted to. The major casualty is that some players will never play for England again and Martin Johnson will not lead England again.
"It's a great shame. He was an amazing manager, a great coach and very inspiring."
MIKE FORD, England defence coach under Johnson
"When he rang it was pretty disappointing, to say the least. Most of the coaches have given him plenty of space and time to consider his decision. We've not tried to convince him one way or the other, we've just tried to support him and I know it's not been easy for him. I don't think it was surprising - the longer it took to make the decision it was inevitable so disappointing because he's a great man and been a great coach.
"He was fantastic. From my point of view he insulated me from off-field matters; he created an environment so you can think about your rugby and coaching 24/7. The support he's shown the players as well was tremendous. Did we get a few things wrong? Of course we did, we're not stupid enough to say we got everything right. But he's got plenty of integrity and is a very loyal guy and he can challenge you as a coach, so for me and the players that's why we're all coming about and supporting him because he was very loyal to us all.
"I'm sure he's going to have a few regrets. He's a very sensible and very intelligent man and will have thought this through very clearly. He's got a young family and this job's all consuming."