Varsity Cup defence tough says Oxford Uni captain John Carter
Last updated on .From the section Rugby Union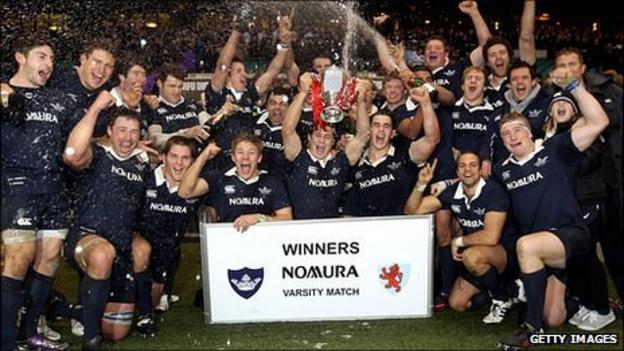 Oxford University captain John Carter says the pressure will be on his side in their Varsity Cup defence against Cambridge on 8 December.
The Dark Blues continued preparations for the match at Twickenham with a win in the Major Stanley's match.
Carter's side recorded a 27-12 win over their rivals, although second-row Karl Outen suffered a shoulder injury.
"I think being the holders of the Varsity Cup adds to the pressure," Carter told BBC Radio Oxford.
He added: "Going into the game with the cup has always been a very difficult thing to do as has winning two on the bounce.
"This is partly because you may have a couple more returning players who have won it before and it is difficult to motivate them to find that want to win."
Carter sat out Wednesday's Major Stanley's match to watch his side in action and would have been worried at the sight of powerful second-row Outen being replaced after 38 minutes.
Nonetheless the former Northampton Saints and Sale Sharks man says preparations are going very well as the intensity of the historic fixture starts to grow.
And as Carter explains juggling rugby commitments with the responsibilities of studying at the same time can prove difficult.
"It's a very busy time, especially as you have your university work as well. So managing time well is important," the captain continued.
"As you get closer the pressure does build but the people around you, and the team you have built up over the previous three months make a massive difference to how you handle that pressure.
"There is a great feeling among the team this year and I think that helps a lot with the pressures of the game.
"I think we have done very well with the players we have got because there is that want to win and they are very motivated."
Oxford, who have brought in specialist coaches such as Charlie Hodgson and Wayne Thompson for the clash, have one more home game before they head to Twickenham, against Northampton Saints A team on Monday. They complete their Varsity Match build-up with a trip to Esher.