Sir Clive Woodward says Martin Johnson let down by RFU
Last updated on .From the section Rugby Union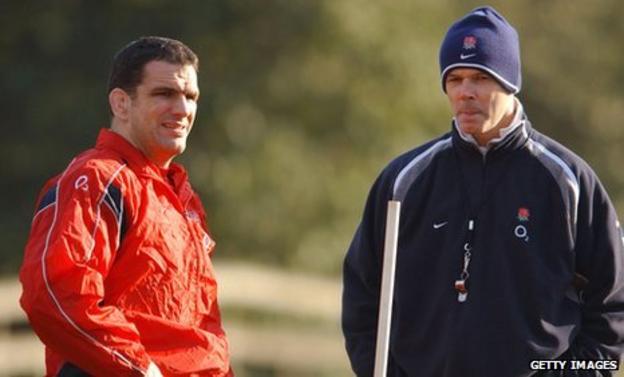 Sir Clive Woodward says ex-England boss Martin Johnson was not given enough support by the Rugby Football Union.
Johnson stepped down on Wednesday after a difficult three-and-half year reign which ended in a quarter-final defeat by France at the World Cup.
"He had no coaching or managerial experience, so it was a huge risk by those who put him in," said Woodward.
"I just don't feel they put anybody alongside him to help him. That is so wrong, someone should be accountable."
Johnson, who captained England to victory in the 2003 World Cup when Woodward was head coach, resigned on Wednesday, saying he thought it was "in the best interests of both the England team and myself not to carry on".
Rob Andrew, the RFU's elite rugby director, was Johnson's immediate line manager and Woodward questioned why Twickenham's top brass allowed England to fail at the World Cup before taking any action.
"Basically I feel quite sorry for Martin Johnson because if you are asked to coach England you are going to say 'yes'," Woodward told Sky Sports.
Woodward added that the former second row needed someone to help "negate the risk, to make sure that the risk was worth taking".
And Woodward concluded: "He's an iconic figure, he's a brilliant guy, but that [role] didn't seem to fit very comfortably with him."
Woodward also insisted he would never coach England again. "To be very clear I've got no wish to coach England again," said the performance director at the British Olympic Association.
"I've been there, done that and had a great seven or eight years. That would be a step back for me."
Woodward does remain a potential candidate to run the RFU's Professional Rugby department, a role which is currently occupied by under-fire Andrew.
"In terms of post-Olympics, I think you'll find in British sport there's going to be a huge amount of changes, there will be all sorts of opportunities all over the place."
The Professional Game Board met to discuss England's Rugby World Cup performance in London on Thursday. Chairman Ian Metcalfe said his members had "had a robust, open and detailed discussion... and considered the input presented by the RFU, Premier Rugby and the Rugby Players Association".
Johnson attended the meeting and Metcalfe said "we are very grateful for his contribution". The PGB will make recommendations to the RFU management board on 30 November.
Meanwhile, former England captain Lewis Moody expressed his disappointment at Johnson's exit. "I think Johnno was the best man to take this team to the 2015 World Cup," he told BBC Sport.
"Several great coaches of recent years, people like Clive Woodward and Graham Henry, learned from their disappointments to take their teams to World Cup glory.
"I thought Johnno could take this team forward but he has decided not to and I'm genuinely gutted. He's an iconic figure in this country and he was a hero of mine. He still is and that won't change."