Chris Stirling shocked by Cornish Pirates loss
Last updated on .From the section Rugby Union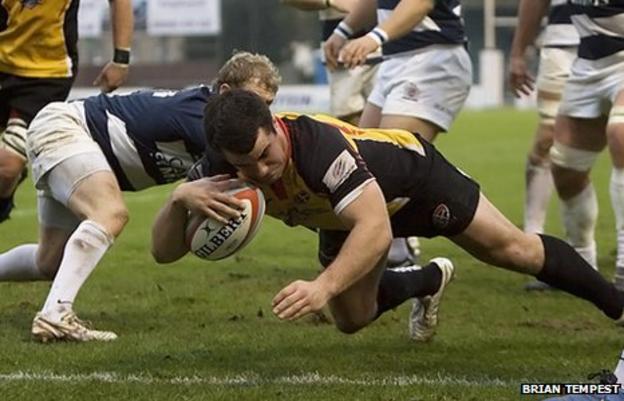 Cornish Pirates boss Chris Stirling says he was shocked as his side squandered a 16-point lead to lose 37-33 at Bristol.
Tries from Andrew Suniula, in the first minute, Dave Ward and David Doherty put Pirates 21-10 up at half-time.
Ward got a second and Tom Kessell also scored as they led 33-17 with 20 minutes to go.
But they squandered it and Stirling told BBC Radio Cornwall: "I'm very disappointed and slightly shocked."
James Merriman and Jonathan Goodridge scored late tries and Tristan Roberts kicked 10 points to win it for Bristol.
Stirling said: "We created opportunities to win the game, and should have, but we didn't and we'll learn form it."
And he felt his players were to blame for the defeat.
"There was a lack of concentration. Generally when you score yourself and the opposition score pretty quickly afterwards it generally comes down to a brief lack of concentration," he said.
"It's a tough place to play but that was a game that the Pirates should have won.
"If we think we're going to be contenders for this Championship and the chance of the promised land up above the boys got taught a very harsh lesson today. It takes 80 minutes of concentration."
Stirling's side are now fourth in the table, two points off leaders Bristol, and travel to fifth-placed Rotherham next week.
"You can't take your foot off the pedal. You've got to keep the concentration going. You've got to keep applying pressure to the opposition, force them to make an error, and we didn't.
"We let them off the hook time and time again and we've got to learn from that," Stirling said.