Rugby Football Union announces record £8.7m profit
Last updated on .From the section Rugby Union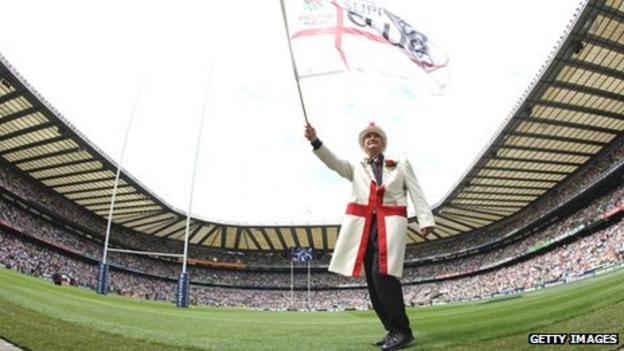 The Rugby Football Union has announced a record profit of £8.7m in its latest financial results.
The profit compares with a £1.1m loss in 2009/10 and is driven largely by increased matchday revenues.
It offers some respite for the RFU, which is in turmoil following England's disastrous recent World Cup campaign.
"In a year which presented many challenges, this is a significant achievement," said acting chief executive Martyn Thomas.
"The RFU's record revenues mean that the game benefits because although the union works to maximise profits, unlike a PLC we then invest this in the sport.
"These results put us in a very strong position for the lead-up to Rugby World Cup 2015 which will bring a unique opportunity to grow the game nationwide, while creating a lasting legacy."
Chief financial officer Stephen Brown added: "The results are reflective of a solid financial and commercial base embedded over the past few years.
"Securing record revenues and operating profit is particularly relevant for the current season when Twickenham Stadium has no autumn internationals and only two Six Nations matches.
"The strength of the RFU's balance sheet continues to grow and we will be in a position to comfortably repay the bank loan used to develop Twickenham Stadium's South Stand by December 2012."
The RFU's latest results show that revenue for the year from 1 July 2010 to 30 June 2011 increased by £24.3m from £112m to £136.3m, while operating profit for the year was £40.6m, up £14.8m on the £25.8m recorded for 2009/10.
As well as matchday revenue, there was also growth in other areas, especially broadcasting, sponsorship and hospitality.
While this is undoubtedly a boost for the organisation, it remains beset by problems.
Last week, Martin Johnson resigned as England manager following a disappointing and controversial World Cup campaign that saw a number of players criticised for their off-field activity and the team eliminated by France in the quarter-finals.
The RFU are also searching for a new chief executive to replace Thomas, while director of elite rugby Rob Andrew has been strongly criticised for his refusal to step down after presiding over the demise of three England coaches.