London Irish forward Declan Danaher defends Brian Smith
Last updated on .From the section Rugby Union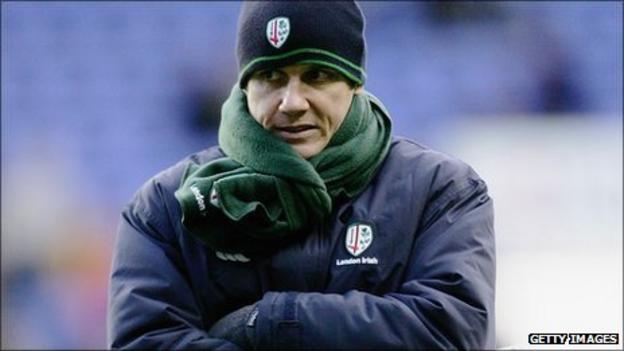 London Irish flanker Declan Danaher has defended England attack coach Brian Smith, who has been heavily criticised in a leaked report.
But Danaher says that the Australian is one of the best he has worked under and called the England set-up a "mess".
"I think Brian was a great coach," Danaher told BBC Radio Berkshire.
Danaher, 31, played under Smith at London Irish for three years, reaching the semi-finals of the Heineken Cup in that time.
And Danaher says the fault for England's World Cup failings should not rest with London Irish's former director of rugby.
"I played under him here and a lot of the success we had was because of him," said Danaher.
"I think the game plan he implemented here was fantastic. I think if they are saying he is the worst coach then they need to take a look at themselves and think why they couldn't implement the game plan he was trying to get them to play.
"It wasn't rocket science, it worked for us and I wouldn't say we were the cleverest of guys but as a 22 and a 15 we were able to understand what he wanted us to achieve. He was a great coach."
The report also went on to say: "He simply doesn't understand the game well enough. He was way out of his depth."
But Danaher added: "These people can have their opinion but I played under Brian and I thought he was one of the best coaches I have ever played with."
The leaked report also went on to suggest England's senior players held the Rugby Football Union (RFU) to ransom and Danaher says it appears they were more interested in money rather than performing.
The former England Saxons forward also admitted he felt a degree of sympathy for departed coach Martin Johnson, who was "let down".
"It's a complete mess, I think the sooner it gets sorted the better," he added.
"I feel pretty sorry for Martin Johnson. As a group of England players I think they have massively let him down.
"These guys are lucky enough to pull on an England shirt. I never got to win a senior cap but if I had, then money would not have been an issue for me.
"It would appear that with the way professionalism is going these guys are thinking more about money and less about playing rugby."