Coach Shaun Edwards hails the achievements of wing Shane Williams
Last updated on .From the section Rugby Union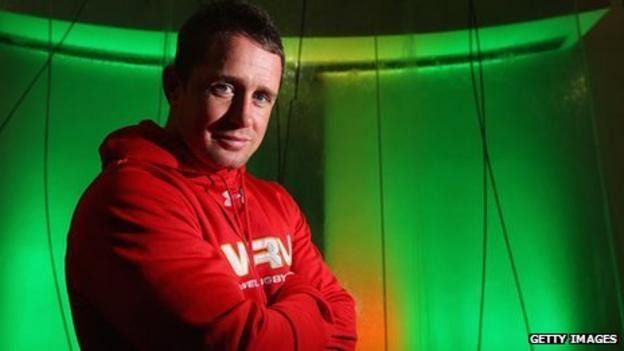 Wales wing Shane Williams has been hailed a "symbol of hope" for any aspiring rugby international.
And Wales defence coach Shaun Edwards believes 34-year-old Williams will go down in the nation's hall of fame.
"Undoubtedly he is an all time great of the game. Shane is like a symbol of hope to anybody who wants to play rugby," he said.
"That no matter what shape or size you are, if you are good enough and determined enough you can make it.
"Obviously players are getting bigger and bigger and bigger. If you compare the size of players now to those 30 or 40 years ago there is no comparison.
"But you get a guy who is small in stature but big in ability and big in heart and determination and you can succeed.
"For him, a Welsh player, to go and win the world player of the year is something we are all very proud of.
"He is probably one of the greatest ever successes in Wales."
In his 86 Wales appearances stretching 11 years, Williams has scored a record 57 tries.
Famously, Edwards was caught on camera celebrating Williams' try against Italy which helped Wales to the 2008 Six Nations Championship Grand Slam, saying: "What a player."
But Edwards admits that although Williams has an abundance of natural flair he has also had to work at areas of his game.
"Not everything comes easy to Shane," added Edwards. "You see him stepping, you see him making these dazzling breaks, and everyone thinks he is just a natural rugby player.
"Well he is natural at those things, but there are other parts of his game he has had to work at. His tackling and he is one of the last players to leave the training field."
Edwards believes the Williams factor could help Wales grab a win against the Wallabies, which would be revenge for the defeat in the bronze medal match at the 2011 Rugby World Cup.
"Sentiment has to come into it," said Edwards. "The lads are going to rally round Shane and want to take him out on a win.
"They expect the people of Wales to rally round, get to the stadium to say goodbye to someone who has been a great hallmark of everything that is good about Welsh rugby.
"The first year I came and saw him play when we won the Grand Slam, I was bewildered by the standard of play he was putting out there on the pitch."
Meanwhile, Edwards says it was the speed and efficiency of the Welsh Rugby Union that persuaded him to sign a new Wales contract until the end of the 2015 World Cup.
And as far as he was concerned, joining the England coaching set-up had never been an option.
"It was just nice to see the staff again," he said. "I'm just so happy to be back on the training pitch involved teaching, coaching young players, hopefully to come better players and hopefully go on to play for Wales.
"I'm very satisfied. From the moment I came to Wales I felt accepted by the Welsh public. I have always felt the players have been very receptive to my coaching. So for me to leave that sort of environment would have been a big risk.
"England was never an option because to have an option you need to have an offer in the first place.
"I am very happy in Wales."