Brian Smith resigns as England attack coach
Last updated on .From the section Rugby Union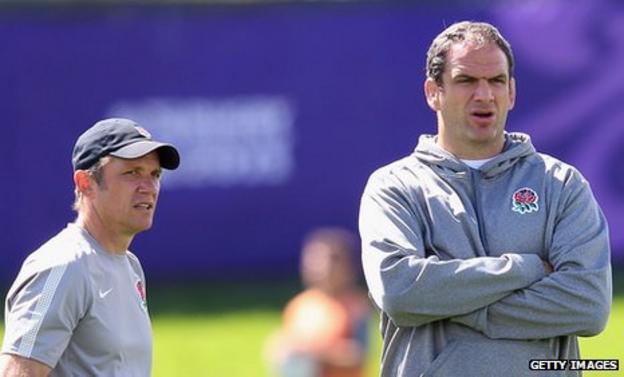 Attack coach Brian Smith, who was among those criticised in the leaked reviews into England's World Cup campaign, has left his post.
The 45-year-old was appointed by manager Martin Johnson - who resigned earlier this month - in 2008.
Smith, who played for Australia and Ireland, came under fire in leaked reports from the players' union.
"Although the World Cup was a massive disappointment, we have won 10 out of the last 13 games," he said.
"Johno appointed me and gave me the opportunity, and that's something I will be forever grateful for.
"He has been fantastic to work for and has always given 100 per cent and maintained the utmost integrity. Working with the other coaches has also been a positive experience and I wish them all well."
Smith has decided not to seek a renewal of his contract, a day after leaked reviews in the Times newspaper on Wednesday revealed some forthright comments about his coaching.
One player, speaking anonymously, was reported to have said of Smith: "I would be delighted if he went. Our attack play was boring, uninventive, lacklustre, even schoolboy at times."
Another is reported to have said: "He didn't offer anything. The players had all the ideas for strategy. All he did was write their ideas on the board."
Among several other damning remarks about Smith in the reports was: "If we'd got to the semi-finals or final it would have papered over the cracks and the worst thing is Brian Smith would have stayed in his job. It might be a blessing."
Smith was the only one of Johnson's coaches to actually be appointed by the former England captain, who in the wake of England's disappointing tournament in New Zealand.
Johnson said: "Brian has brought a high level of coaching and a huge amount of commitment and passion to the job.
"If you look at our record in the last 12 months, and the fact that we have scored 37 tries to 12 conceded, it shows what an impact he has made. I want to thank him for what he has done for the England team and for the young players that he has brought on."
Johnson's men were beaten in the quarter-finals by France - their worst ever World Cup performance - and the spotlight was also on their off-the-field behaviour, which saw England's players in the news for the wrong reasons.