Former winger David Doherty praises Jersey Rugby Club
Last updated on .From the section Rugby Union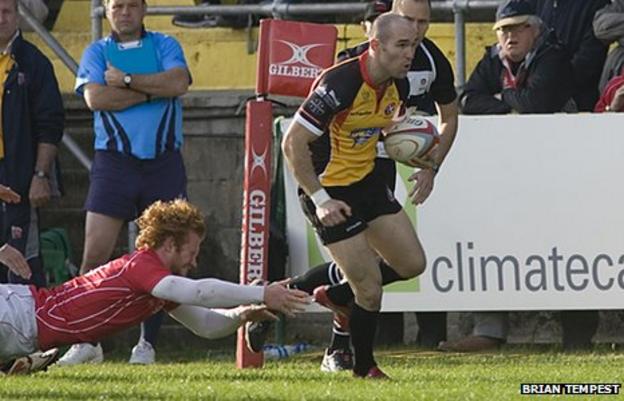 Former Jersey winger David Doherty has praised the island club's set-up.
Doherty, 24, left Jersey in the summer for Championship side Cornish Pirates after helping the island club gain promotion to National One.
He scored 18 tries in 18 games for Jersey last season as he recovered from a serious knee injury.
"Jersey's a fantastic place with fantastic people and I think they'll go from strength to strength," Doherty told BBC Radio Cornwall.
"The set-up that they've got there is brilliant, especially with their youth, they really spend a lot of time getting it right.
"Every player in the first team looks after one of the youth teams and it's coming through.
"Mike le Bourgeois is a great player and in two or three years time we'll certainly be hearing some of these names coming through.
"I think they'll be very strong at the end of the season and going forward from that in the next five years we'll definitely hear a lot more about Jersey," Doherty said.
So far this season he has scored nine tries for the Pirates in the Championship as they aim to gain promotion to rugby's top flight.
And Doherty, who played in the Premiership with Leeds, Wasps and Sale before suffering a serious knee injury, says he is almost back to his best.
"It was really important to go to Jersey and have a rest, you can't really play at the top flight when you're struggling with an injury.
"That was perfect for me, I got my freshness and my pace back.
"Then the Pirates picked me up and said 'we'd like to develop you as a player and hopefully get you back to where you were and better'.
"I'm definitely getting there, I'm certainly faster than when I was playing in the Premiership, but that's to do with age, I'm 24 now and I was quite young back then.
"The conditioning staff have done really well for me, my knee's perfect and I'm feeling faster and stronger," he concluded.