Ospreys chief Mike Cuddy bemoans Liberty Stadium attendances
Last updated on .From the section Rugby Union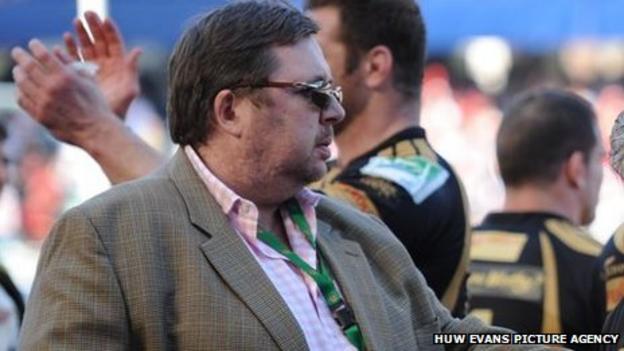 Ospreys chief Mike Cuddy admits he "doesn't have a clue" why attendances for their games at Liberty Stadium have not matched hopes and expectations.
The team's average crowd this season is around 7,000, hitting finances while stadium partners Swansea City profit from their Premier League status.
Cuddy says the Swans' success is a factor in the Ospreys' crowd shortfall.
"I haven't really put my finger on it yet - I haven't got a clue," Cuddy told BBC Radio Wales' The Back Page.
"But we're all looking for the solution to get people to come and watch."
Cuddy admits to being left wondering why English Premiership club Leicester have been able to fill Welford Road even during lean seasons in the past decade while the Ospreys have failed to regularly fill their ground.
"[Is it] marketing? Apathy? Well, you just always wonder, don't you?
"You see Leicester - they didn't win anything from 2003 to 2008 and they've had a disastrous start to this season.
"But you flick the telly on and it's full. So you just wonder, really, why?
"And I haven't really put my finger on it yet - I haven't got a clue.
"But we're all looking for the solution to get people to come and watch.
"People say you're [Ospreys] boring and you're not doing this, but... last year we scored more tries than anybody else and we were in the last four of the [Pro12] league.
"Was it a disappointing season? Of course it was because we all want to win and we all believe and we all start the season believe and we all start the season thinking we're going to win something and that's what we all strive for.
"So when you don't, you're obviously disappointed."
However, the Ospreys managing director admits they should have done better in the Heineken Cup, having never progressed beyond the quarter-final stages in eight attempts.
Cuddy admits their 29-28 2010 defeat by Biarritz in San Sebastian in the last eight was the biggest of blows.
At the time, the Ospreys were known as Galacticos - an image they have recently been keen to shed - with stars such as since-departed Mike Phillips, James Hook, Lee Byrne, Jerry Collins and Mary Holah in their ranks.
"People obviously said we under-achieved. Do I think we've under-achieved with the squad we've had?
"Yes, I think we could have done better and I am disappointed we didn't do better in Europe.
"Coming away [from] the one game with Biarritz, that was exceptionally disappointing.
"The prospect of playing Munster at the Millennium Stadium, possibly in front of a full house - I think that was the darkest days of my time at Ospreys.
"Times like that don't come along very often and we missed the boat."
Even so Cuddy believes the history of the Heineken Cup suggests having a Test-star-studded line-up is not a pre-requisite for success.
He said: "You look at some of the teams that have won Europe and you look at how many international players and current international players are playing for the teams that win it are far less than we had in ours.
"So it's not all doom and gloom."
In this season's tournament, the Ospreys drew 26-26 at Treviso in the second round, having beaten their 2010 nemisis Biarritz in the opening round.