Matthew Rees backs Sam Warburton to lead Wales
Last updated on .From the section Rugby Union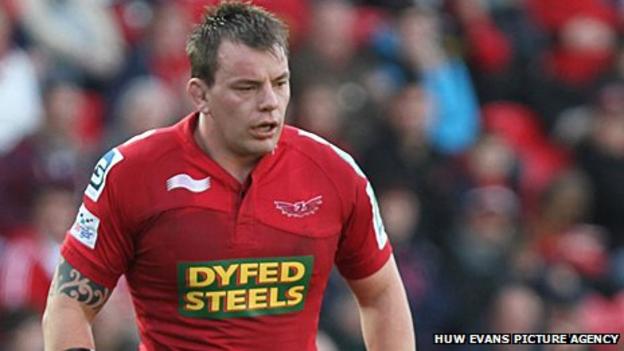 Matthew Rees says "outstanding" Wales World Cup captain Sam Warburton deserves to lead Wales against Australia in Cardiff on 3 December.
Warburton won widespread praise despite being sent off in the 9-8 semi-final defeat by France.
"Sam... deserves the armband again," said Scarlets hooker Rees, 30.
"When Sam asked me about the captaincy earlier in the year I said he did not have to change as a player.
"It was all about how he wanted to come across as captain, and he was superb during the World Cup."
Rees has admitted he would like to lead Wales again, but accepts he has first to battle back into the starting line-up after Huw Bennett's impressive performances in the World Cup.
"I am starting from scratch again. There is stiff competition for places at hooker, and I have to raise the bar and get back to my best," Rees said.
"I have had three tough games [for the Scarlets], and my neck is fine. I am glad to be part of the squad again.
"I was a bit nervous at the first couple of scrums, but I am 100% fit.
"I had a bulging disc in my neck which was catching a nerve. It was not career-threatening, but it needed to be sorted out.
"They have taken 50% of the disc away, and I am not in any pain now."
Rees hopes Wales can benefit from the morale boost supplied by their World Cup efforts as they prepare to take on the Wallabies.
"Getting a southern hemisphere scalp is the next stage in our development in terms of where we want to go. A win would be massive for us," he said.
"We are building to the next World Cup, and Australia is the first step on the journey.
"The way Wales performed in the World Cup has had a positive impact on the regions in the Heineken Cup.
"You only have to look at the results.
"The players who have come back from New Zealand have been confident and full of belief.
"The young players coming in have been amazing and George North is a perfect example. Shane [Williams] is retiring, but we have the players coming through.
"We have to be pleased as a nation about where we are, and it is about progressing, starting next week and then into the Six Nations, when we have to make a mark.
"We have come a long way in the last couple of years, pitching ourselves against the best teams in the world.
"We are a lot better for that and we will be favourites going into games, and we have to show we can deal with that pressure."