Martin Johnson backs Lewis Moody's England captaincy
Last updated on .From the section Rugby Union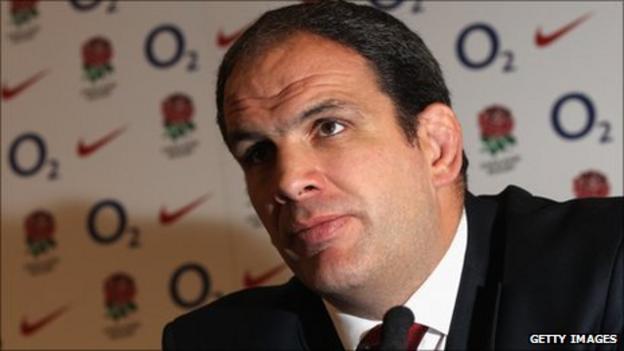 Martin Johnson has defended England's World Cup captain Lewis Moody and said he would make the same choice again.
"Lewis was the outstanding choice to captain that group and I wouldn't hesitate to make the same choice again to do that," insisted Johnson who resigned as England manager this month.
"You can't fault him for the way he captained the squad. He was fantastic."
In the reports, the veteran Bath flanker was criticised by an unnamed team-mate for having too much contact with his agent during the tournament.
Moody, who cancelled a book signing at Twickenham on Saturday, was also singled out by England's elite rugby director Rob Andrew for leading a senior player delegation that disputed the squad's tournament payments.
The 33-year-old released a statement on Wednesday rejecting the reported claims that he was motivated by money.
And Johnson said of Moody: "He gave a huge amount of care and thought to what he was doing. He didn't try and be something that he isn't. He worked incredibly hard on and off the field, he did the job as well as he could do it.
"If some people didn't think he was a good captain, fine, but that is certainly not the majority view of the team.
"Lewis was coming back from injury, and that was difficult for him in that sense, and he was hugely frustrated at times about where he was physically and not being able to be on the field, leading the team.
"I thought he did an absolutely fantastic job from the day we asked him to step up and do it."