Steve Diamond questions Sale Sharks players desire
Last updated on .From the section Rugby Union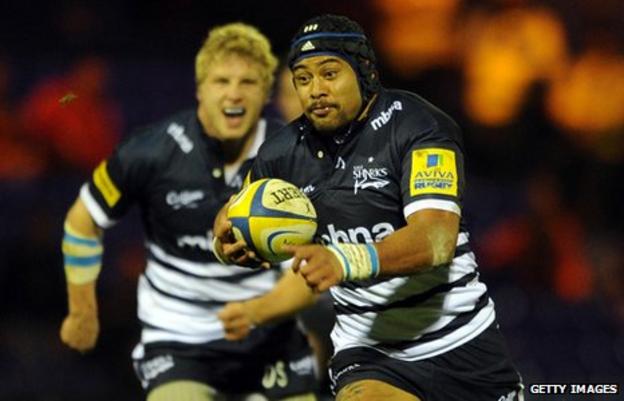 Sale director of sport Steve Diamond has questioned the desire of his squad following another second-half collapse.
"There is a certain element of the game which is statistical and there is a certain element which is desire and we got beaten in the desire stakes.
"I can't do anything about that. It's up to them as individuals," he told BBC Radio Manchester.
The game had comparisons with the 34-13 defeat at home by Leicester Tigers, where the Sharks lead 13-3 at half-time but that night conceded 31 points in the second half without managing to get on the board themselves.
"We talked at half-time at being in a similar situation against Leicester, and if we're not sharp and go out with the right mentality it could easily happen, and it did," added the 42-year-old.
"There are a lot of players that have to look at themselves really.
"What we have to do is go back and see why we have been beaten by a team on desire and decision making."
Despite not testing the scoreboard in the second 40 minutes, Sale still looked to be heading for a draw, and two points, with the scores level at 23-23 in the closing stages.
Samoan fly-half Tasesa Lavea, on as a substitute for Rob Miller, misplaced his pass to gift Argentine Ignacio Mieres a walk-in try.
"He's an international player. We run the game out and get two points in this league, [but] we go away with nothing and I'm embarrassed," Diamond stated.
"We were good in the first half and Exeter come out as we expected them to do, but we were in control of the game and we let it ebb away from us.
"We're a good side and we should be able to cope in those situations and what Exeter did really well was knock on the board and get points every time they came down."