Jersey's Nathan Hannay suspended for two weeks by RFU
Last updated on .From the section Rugby Union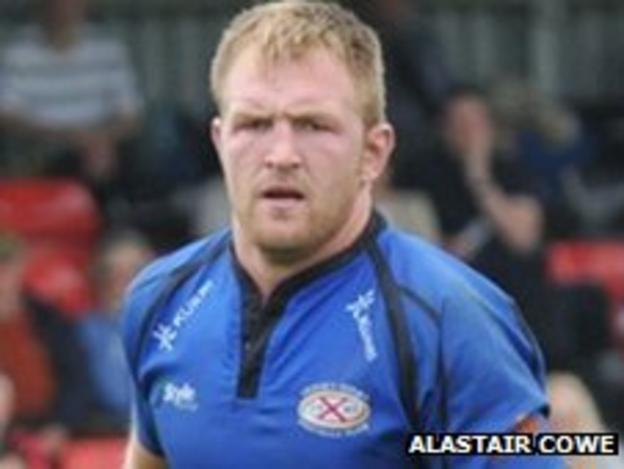 Jersey forward Nathan Hannay has been handed a two week suspension by the Rugby Football Union (RFU) and will miss the game with Coventry.
Hannay was sent off for head-butting Cambridge back-row Darren Fox in the National One game earlier in November.
The island club originally imposed its own fortnight ban but reduced it after watching video footage.
The RFU suspension will be cut by a week because of the punishment already given by Jersey.
"There were a considerable number of mitigating factors," said Jersey chairman Bill Dempsey.
"These included Nathan's previous good disciplinary record, a considerable element of provocation, the fact that the player involved was not hurt and resumed playing and that he accepted an apology."
The RFU disciplinary hearing was conducted via a conference call, with Hannay pleading guilty to striking an opponent.
Having already served one week of his suspension, the second week will run until December 5 and rule him out of Saturday's game against Coventry at St Peter.
Dempsey said: "Although we felt there was a case to say a week's ban was sufficient, hence the halving of the original in-house suspension, we are nevertheless pleased that all the circumstances have been taken into account.
"We are content that the disciplinary process has run its course, with Nathan being available to play again in our final two matches before Christmas."