Craig Hammond has heart set on Nottingham promotion
Last updated on .From the section Rugby Union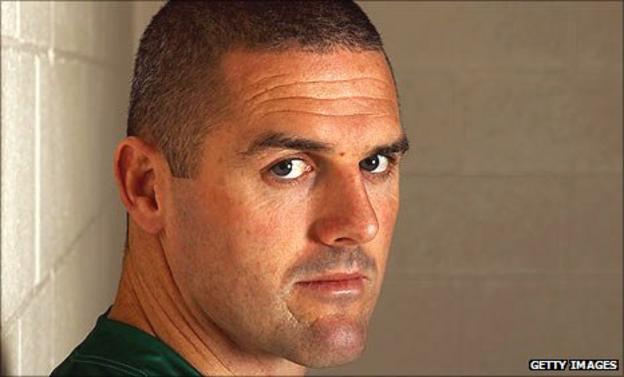 Nottingham captain Craig Hammond says they have a great chance of winning promotion to the top flight this term.
The Green & Whites signed three new faces in three weeks in November and, after a mixed start to the Championship season, have started to find form.
He told BBC Radio Nottingham: "It's pretty tight this year and with the new owners here, this a great opportunity to have a crack at promotion.
"This is the best squad we've had and we are starting to get a bit of a run."
Hammond added: "I want to get Nottingham in the Premiership. I'd love to see us play against the Leicesters and Northamptons.
"Let's see if we can get in the play-off semi-finals and go from there."
Back-row forward Hammond has spent more than 10 years in the East Midlands and made his 250th appearance for the club in the crushing 62-20 win over Moseley at Meadow Lane on Sunday.
"It's been coming for the whole season," the New Zealander said after that victory. "We haven't really clicked as a team but the last few weeks we have been building and we put 60 points on a good team.
"There is no one in this league that you can beat easy but it was all about us.
"We knew the forwards could give some good ball and the backs cut some good holes.
"We played as a whole team and linked the forwards and backs and scored some good tries. They came at us in the second half but we came back and scored some more tries."
Although the Green & Whites are currently only seventh in the table, they are only nine points off the summit.
And, more importantly, they only need to make the top eight to qualify for the end-of-season play-offs, so peaking at the right time is key.
Hammond has skippered the side more than 215 times during his stay in Nottingham and he said the club's ambition and recent performances are beginning to suggest a realistic promotion push is on the cards.
"When I came here it was a great club but it was pretty amateur," Hammond added. "I came from a professional environment in New Zealand and I came for an off-season to see how it went. I enjoyed it but said I would rather stay in New Zealand.
"But I came here for six months and have been here 10 years. I am loving it and if I can keep doing it for a few more years then hopefully I will have left a bit of a mark in Nottingham. It's a great city and the club has been fantastic to me.
"I'd love to stay around the club and keep playing for another couple of years. My body is in good nick.
"There are some great young players coming on and challenging for the position now. I am probably training harder now just to keep up and keep my peak performance."
And Hammond has no intention of returning to his homeland when he does retire.
"I would love to stay around Nottingham and coach and stay involved with the club," he said.