Mike Tindall says he has been made a scapegoat by RFU
Last updated on .From the section Rugby Union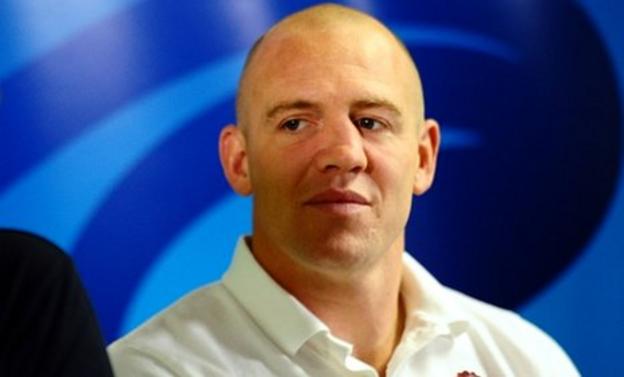 Former England captain Mike Tindall says he has been made a "scapegoat" by the Rugby Football Union.
The player was axed from England's Elite Player Squad (EPS) and fined £25,000 following a controversial night out during the Rugby World Cup in New Zealand.
The fine was reduced on appeal, while Tindall was also reinstated to the EPS.
But the 33-year-old centre said: "I am deeply disappointed by the way the RFU has chosen to handle the situation."
England's campaign was dogged by problems on and off the field.
Martin Johnson's side went into the tournament as one of the favourites but were beaten in the quarter-finals by France.
Tindall, who is married to the Queen's granddaughter Zara Phillips, added: "I absolutely accept my share of responsibility for what happened in Queenstown and that I drank too much that night.
"It unfortunately created a level of media interest which was an unwanted distraction for myself, my team-mates, Martin Johnson and his staff. I can again only apologise unreservedly for this.
"I have felt throughout the disciplinary process that my case was made unnecessarily political and public by the RFU and that I ended up being made a scapegoat."
"The decision goes some way to reflect a fairer assessment of what actually happened during the World Cup. It had been suggested that I intentionally misled people in relation to the events in Queenstown and I am pleased following this appeal process that it has been made clear that I did not do so."
Acting RFU chief executive Martyn Thomas, who heard the appeal, said Tindall's behaviour had fallen "way below that to be expected of somebody of his calibre and experience" but conceded that "mitigating factors" had not been sufficiently considered.
The RFU felt Tindall "did not intentionally mislead team management" when he said he could not remember his movements that night and subsequently reduced his fine from £25,000 to £15,000.
Thomas, who on Tuesday stepped down from his RFU role, added that Tindall had been "relying on other people's versions of events which were relayed to him" about the night in question.
Tindall, who has won 75 England caps and plays for Gloucester, is satisfied that the saga has been resolved and is looking forward to playing again.
"I feel somewhat vindicated by the decision to reinstate me back into the Elite Player Squad," he added in a statement released through the Rugby Players' Association.
"It is the ultimate honour to play for your country and I am proud and privileged to have done this for over 11 years. I have always put my heart and soul into playing for England."