Harinordoquy Sr wades in to protect his son in rugby punch-up
Last updated on .From the section Rugby Union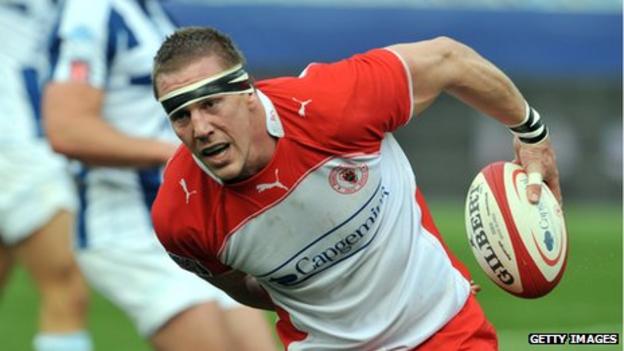 The father of a France international rugby player caused a stir when he leapt to his son's defence during an on-field brawl on Tuesday.
Lucien Harinordoquy, father of Imanol, entered the pitch and tried to punch a Bayonne player in the face during the Top 14 clash between Biarritz and Bayonne.
Before he was able to make contact with Jean-Jo Marmouyet, Harinordoquy's father was tackled to the ground by the Bayonne fly-half Benjamin Boyet.
Branding the incident "unacceptable", Bayonne said they will file a complaint against Lucien Harinordoquy.
Christian Gajan, Bayonne's director of rugby, was outraged by Harinordoquy's father's actions in the Basque derby.
"I find his behaviour deplorable, that he came on to the pitch to defend his son by boxing with Marmouyet at the beginning of the match," he said.
"You could have been mistaken for believing it was a youth match between two local villages. It was a scandalous episode."
Harinordoquy junior, who is known as one of the tougher customers in the sport and is a veteran of three World Cups, chose not to comment.
The president of France's National Rugby League (LNR), Pierre-Yves Revol, described the incident as "a first in professional rugby" and said that his organisation would conduct an investigation.
Biarritz won the 100th Basque derby with the last kick of the game to beat their rivals 21-19.