Andy Robinson in search of new Scotland coach
By Stevie Miller
BBC Sport Nation
Last updated on .From the section Rugby Union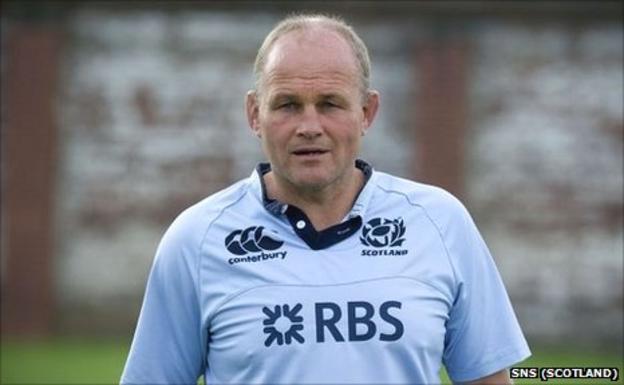 Scotland head coach Andy Robinson has revealed he is looking to add to his coaching staff - and insists he has not been contacted about the Lions job.
The new coach will not be appointed until after the Six Nations, in mid-March, Robinson told BBC Scotland.
He said: "We're working with similar coaches. I think Graham Steadman's done well as has Gregor Townsend and the specialist coaches we've had with us.
"But long term, I'm looking to bring in some extra international experience."
Speaking at Murrayfield, Robinson added: "I've been pleased with the way we've been operating as a coaching team.
"I'm searching to see who I can bring in to add to what we're doing as a group, because I think it's important you don't stand still; it's important that you keep moving forward to keep improving as a group."
Scottish rugby's hierarchy has held a postmortem into this year's Six Nations and World Cup performances, and the head coach believes he and his colleagues have identified where improvements must be made.
"We're hugely disappointed with the last Six Nations but also with what happened at the World Cup," he said.
"Not qualifying for the quarter-final was bitterly disappointing for us.
"When we reviewed what happened, we got ourselves into very good positions in both games, against Argentina and against England, but it was our inability to take the opportunities that we'd created.
"There was some good approach work, but when we got chances we weren't able to take them.
"The three areas we want to improve on are our ability to take chances; to try and absorb errors - we're going to make errors in games, it's being able to absorb them; and, finally, when it's the end of the game, to be able to take the drop-goal opportunities when they come."
Looking ahead to the Six Nations games in February and March, Robinson added: "We've got to break this 'unlucky losers' tag and we've got to deliver in those first two games against England and Wales."
The British and Irish Lions begin their 2013 tour in Hong Kong in June of that year and team manager Andy Irvine is seeking to have Ian McGeechan's successor in place a year before the first match.
Robinson's name is in the frame for the prestigious role but he gave no hint that he was about to leave his current post in Murrayfield.
"I'm delighted with the work I'm doing here at Scotland, with the players, with the management, with the whole of Scottish rugby, and that's what my focus is," he said.
"What happens after that is down to other people to decide, but currently my focus is on Scotland winning.
"I've had no discussions with anybody about that, so it's hypothetical currently.
"Obviously, I've played with the Lions, I've coached the Lions and one of my goals is to create as many Scottish Lions as possible, so I'm challenging the players to become British Lions over the next two years."
Robinson also said he would be looking again at how he selects a captain, after being criticised for dropping skipper Al Kellock for the World Cup match against Argentina.
"Al's captained the side very, very well and I've been delighted with the way he's operated as a leader," he continued.
"But you review everything and it wasn't ideal for me not to select him against Argentina.
"If I select a captain I've got to pick him. I fully realise that.
"The decision will be made around a player who is going to be playing well in the team."