England Women 8-8 New Zealand Women
Last updated on .From the section Rugby Union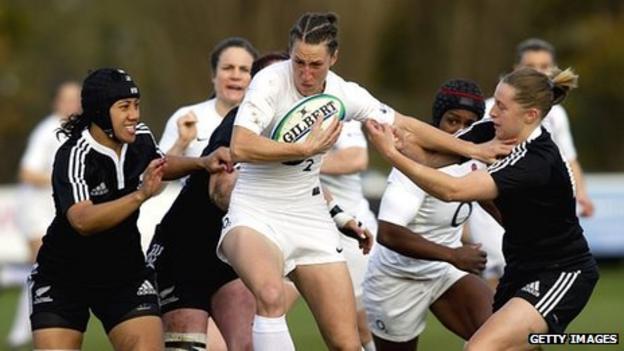 Natasha Hunt's try secured a draw for England Women in the final match of the three-Test series with New Zealand.
The final Test at Esher followed a 10-0 victory last weekend and a 21-7 win on Tuesday which sealed the series.
The Black Ferns led 8-3 after a Renee Wickliffe try but replacement Hunt levelled the score after 55 minutes.
England head coach Gary Street said: "If I had been offered two wins and a draw against the world champions 10 days ago I would have taken that."
England Women: Emily Scarratt (Lichfield), Katherine Merchant (Worcester), Rachael Burford (Richmond), Alice Richardson (Richmond), Kay Wilson (Bristol), Katy McLean (Darlington Mowden Park Sharks) (c), La Toya Mason (Wasps); Claire Purdy (Wasps), Amy Turner (Richmond), Sophie Hemming (Bristol), Rebecca Essex (Richmond), Tamara Taylor (Darlington Mowden Park Sharks), Alexandra Matthews (Richmond), Margaret Alphonsi (Saracens), Sarah Hunter (Lichfield).
Replacements: Victoria Fleetwood (Lichfield), Laura Keates (Worcester), Rowena Burnfield (Richmond), Marlie Packer (Bristol), Natasha Hunt (Lichfield), Kimberley Oliver (Bristol), Georgina Roberts (Darlington Mowden Park Sharks).
New Zealand: Hazel Tubic, Victoria Grant (c), Shakira Baker, Teresa Te Tamaki, Renee Wickliffe, Kelly Brazier, Kendra Cocksedge, Kathleen Wilton, Karina Penetito, Stephanie TeOhaere-Fox, Vita Robinson, Eloise Blackwell, Lydia Crossman, Justine Lavea, Casey Robertson.
Replacements: Doris Taufateau, Muteremoana Aiatu, Amanda Murphy, Rawina Everitt, Emma Jensen, Rebecca Mah oney, Katarina Whata