Nick Mallett is right man for England - Steve Thompson
Last updated on .From the section Rugby Union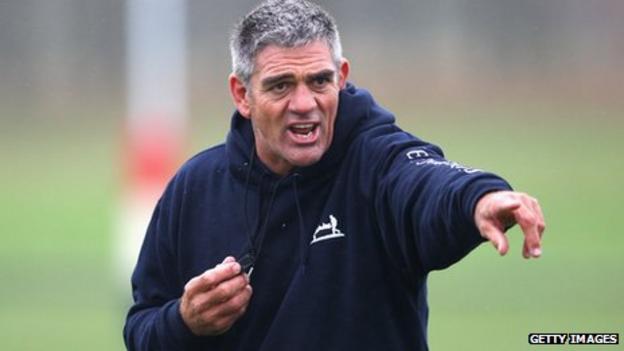 England hooker Steve Thompson has backed Nick Mallett as the ideal candidate to take over as head coach.
Mallett is the favourite to replace , who stepped down in November.
"I have had a few conversations with [Mallett] in the past," said Thompson. "I have been very impressed with him."
Thompson, a 2003 World Cup winner, also believes Stuart Lancaster, who has been tipped as England's interim Six Nations coach, is the right man for that role.
Former Italy and South Africa coach Mallett ruled himself out as an immediate replacement for Johnson, but has indicated he might be available after the Six Nations.
"When he was in France he spoke fluent French, he bought into the culture and led Stade Francais to the title," added Thompson, who was with French side Brive at the time.
"In Italy, he spoke fluent Italian. He went in there, found out their culture, bought into their mentality and still brought his own.
"He has coached all around the world. We want coaches with worldwide experience. Look at Wayne Smith for New Zealand. He has exactly that. He went back there after all his experience with Northampton."
Asked if Mallett and Smith would be his management dream-team, the 33-year-old said: "That would be outstanding."
Smith is also regarded as one of the best rugby brains in the game, having helped the All Blacks win the 2011 World Cup in his role as assistant coach.
Thompson also said that Lancaster, England's head of elite player development and coach of the second-string Saxons, would be the right man to start the transition.
"I think Lancaster would be great for it. He was over in the World Cup and seeing what was going on and I am sure he will be thinking 'this is what I need to do'," Thompson said.
"He is a massive RFU man and he would be a great person to step in."
Looking ahead to the World Cup in England in four years' time, the Northampton hooker insists England will make up for their "mistakes" in New Zealand.
"We have a World Cup in England in four years' time. I really do believe we can win that.
"I know we didn't have a good World Cup but they are Six Nations champions with so much talent coming through.
"People have made mistakes but they won't do it again - we will move forward."
Meanwhile, the Rugby Football Union Council has approved a far-reaching consultation process to try and improve the way the sport is run in England.
It follows recent criticisms of the shortcomings in the sport's governance and a review by the law firm, Slaughter and May, who made 150 recommendations for change.
The RFU President, Willie Wildash promised that they would now, "reflect humbly on how to run the game, and take real progressive action," to improve things.
A consultation process from elite level to grass roots will be led by independent director, Miles Templeman.