England hooker Steve Thompson retires again because of neck injury
Last updated on .From the section Rugby Union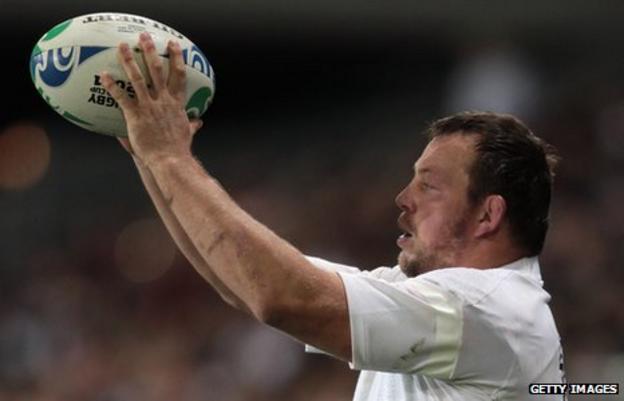 England hooker Steve Thompson has been forced to retire for a second time because of another neck injury.
The 33-year-old, who first quit in 2007, will have surgery on Tuesday and has been told not to make a comeback.
"I went to the specialist and he advised me it isn't safe to carry on playing," said the 73-cap England man.
Thompson, who won the World Cup with England in 2003, has been experiencing numbness and dizziness since hitting a scrum machine in training in October.
He also won three caps for the Lions in an international career stretching back to 2002.
The injury occurred just two days before Thompson made his debut for Wasps, whom he joined from Leeds this summer on a three-year contract.
He played an hour in the 14-12 win at Worcester, which proved to be his only game for the club and his last in professional rugby.
"It just went. I was gutted," Thompson added. "I played 60 minutes at Worcester and that was it.
"I tried to convince myself it was fine and it wasn't. I have got to accept it this time. There is no way I can play.
"I can't do what I need to do to earn a living. I scrum - that is what I do."
Thompson returned an insurance payout of around £500,000 when he returned to action after his last neck injury, having received a second medical opinion that cleared him to play again.
He forced his way back into the England set-up for the 2009 summer Tests against Argentina and was first-choice hooker at this year's World Cup, which ended with defeat by France at the quarter-final stage.
"The World Cup was hard," said Thompson, who numbers Northampton and Brive among his former clubs.
"To finish the way it did was really disappointing and then to suffer another blow a few weeks afterwards - it is like a kick in the nuts.
"I was enjoying rugby. I thought I had done all right at the World Cup, compared to how some of the lads went, and I was really looking forward to Wasps.
"This operation will be more painful than the last one. I will take a break and see what opportunities come along the way."
Former England coach Martin Johnson paid tribute to his 2003 World Cup-winning team-mate.
"That Steve retired and then came back to get himself fit and in form to compete in a World Cup shows what a great player and character he is," he said.
"I know he was really looking forward to a new start at Wasps and for him to have to retire early like this is sad. But we should celebrate what he has done in the game and wish him well for the future."