Nick Easter may have made England World Cup cash comment
Last updated on .From the section Rugby Union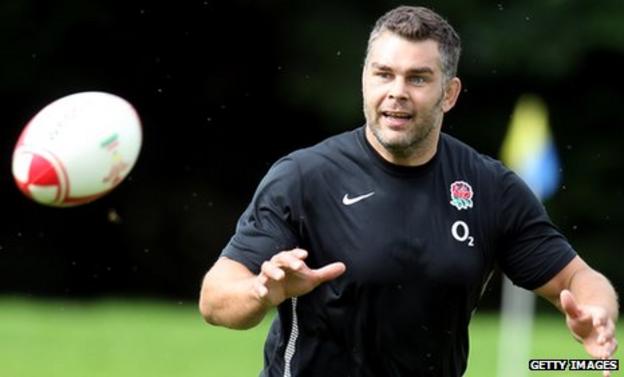 Nick Easter has admitted he could have made the infamous "£35,000 down the toilet" comment after England exited the World Cup.
Leaked reports into England's failed campaign suggested an unidentified player was more concerned with lost earnings than defeat to France.
Easter told the Mail on Sunday: "I don't specifically remember saying it but it's possible I did.
"It is the kind of facetious thing I say and people who know me know this."
England came in for much criticism during the tournament, and again after the confidential reports reflected poorly on players and coaching staff.
Captain Lewis Moody has denied he was driven by money, and Easter claimed: "I can't understand whoever reported this would believe this was part of my motivation.
"The remark, assuming I said it, has been taken out of context by the player, and subsequently, by the response to it.
"Although being paid is a welcome bonus that professionalism brings, it is the last thing on your mind when you are playing rugby, or you've just experienced a defeat, let alone a World Cup quarter-final defeat.
"I know I didn't say anything for a good hour at least because nobody did. It was like a funeral in there," Easter said of the England dressing room following the 19-12 loss.
"I may have said it, but I'd gone through a thousand other thoughts first as I sat in the dressing room numb with shock and despair.
"I find it very disappointing that a player should make a point of bringing this up in the review, and equally disappointing that it was leaked."
The Rugby Football Union has vowed to appoint a caretaker coach before Christmas, in the wake of the World Cup.