Varsity Match: Oxford and Cambridge captains ease the pressure
Last updated on .From the section Rugby Union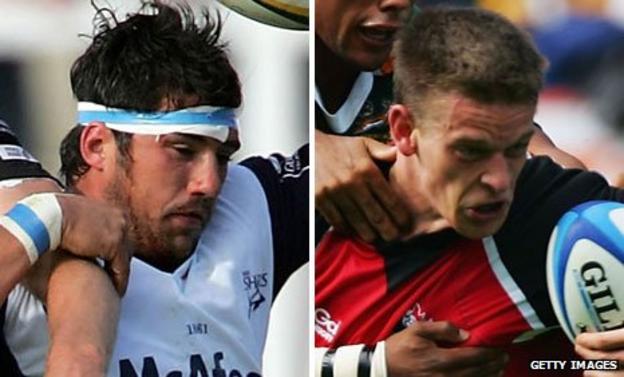 Both Varsity captains have claimed they are "underdogs" for this year's Oxford-Cambridge clash.
But Dark Blues skipper John Carter told BBC Oxford: "Cambridge have the added motivation of revenge."
His opposite number Matt Guinness-King disagrees, telling BBC Radio Cambridgeshire: "The pressure is more on Oxford to win because they are expected to."
The Varsity Match, which will be contested for the 130th time on Thursday, is the showpiece clash for both universities each year.
And the opposing captains are at pains to ease the pressure on their sides.
"We're already being touted as the underdogs which isn't actually the worst place to be in the Varsity Match," said 31-year-old former Canada international Guinness-King.
"Historically the record shows it isn't all that bad to be an underdog. It takes the pressure off a little bit.
"If we're expected to lose the game we can relax and play. The pressure is more on Oxford to win because they are expected to."
Carter, 30, rates Cambridge as the favourites to leave Twickenham with the silverware.
"I think the pressure is greater if you were the winners the previous year but I have a feeling we are the underdogs this year," said the former Sale number eight.
"I think it is the expectation that you will win it again while they have the added motivation of revenge.
"It's like a cup final. The pressure building up to it is huge and you know some people will judge your whole season on this one result.
"Within the club, obviously we'll look at the bigger picture but we know that if we lose it can be heartbreaking."
Flanker Guinness-King faced a personal dilemma over whether to pick himself for the match dubbed 'The Battle of the Blues' after missing much of the build-up with a neck injury.
"It's definitely been a difficult one for myself and the team to have a captain that's been out for most of the season," he explained.
"This team has very much been a team full of leaders. On the surface it's been a bit of a disadvantage but now we're more robust in our cohesion and leadership on the field."