Gareth Davies calls for action over poor regional attendances
Last updated on .From the section Rugby Union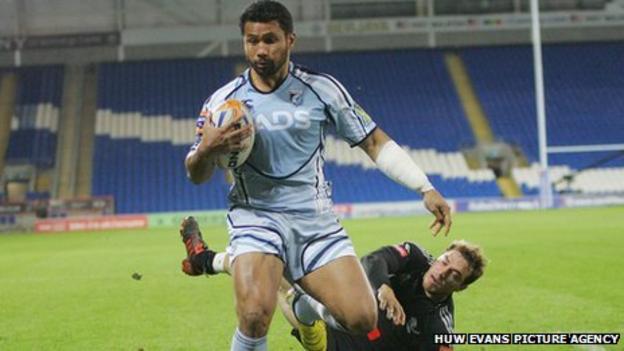 Former Cardiff rugby chief Gareth Davies has challenged Wales' rugby bosses to form a plan to boost attendances at regional games.
Davies says a solution must be found to the "conundrum" of why Wales games at the 75,000-capacity Millennium Stadium often sell out while the regions rarely even half-fill their stadia.
"I just wonder whether there's been enough co-operation between the union and the regions, really, trying to… promote, endorse and really market the game," said Davies.
"It's a conundrum, really, isn't it, as to why the regions can't be more successful in their marketing activities."
More than 60,000 people turned up to watch Wales' 24-18 defeat by Australia at the Millennium Stadium on Saturday, a game that was heavily marketed as Shane Williams' last Test appearance.
Davies has joined Ospreys managing director Mike Cuddy in expressing concern at the poor crowds for games at regional games.
Cuddy recently admitted to BBC Sport Wales that he was baffled as to why average Liberty Stadium attendances are around 7,000 this season in a venue that can accommodate 20,000.
The Scarlets have filled their 15,000-capacity Parc y Scarlets once - the official opener against the Barbarians in Janurary 2009 - and often play in front of disappointing crowd numbers, while an average crowd of 6,723 has watched Cardiff Blues in their six home games this season.
Newport Gwent Dragons have begun increasing their Rodney Parade capacity from 11,700 to 15,000 in the only traditional rugby stadium used at regional level.
The Blues are tenants of Cardiff City Stadium in the Welsh capital, the Scarlets rent their home from Carmarthenshire County Council and the Ospreys share their facility with Premier League football club Swansea City.
The Blues have appointed Chepstow horse-racing course executive director Richard Holland to succeed departed chief executive Robert Norster.
And Davies says the job of Holland, his regional counterparts and the WRU power-brokers should be to tackle the poor-crowds issue.
"The wider issue, of course, is perhaps the challenges facing rugby in Wales in terms of being a commercial entity," said the former Wales captain.
"I think at international level it obviously seems to be working very well at the moment.
"When you think that there were over 60,000 people at the stadium last week for what was, really, just a friendly match, where will those 60,000 people be this weekend?
"I suppose the quick answer is they won't be watching rugby, unfortunately.
"And that's a huge quandary I think, not only for the Blues, but certainly for the other regions as well.
"And I'd like to think that it's a quandary the Welsh Rugby Union should be trying to solve hand-in-hand with the four regions.
"I think it is a problem for all the regions because it's common knowledge that financially all four are struggling.
"And that is, unfortunately, not reflected in the crowds, but it's puzzling really that Shane Williams, locally, will still be playing for the Ospreys in the next couple of weeks.
"So why isn't there the interest at the regional level to carry on from last week?
"Surely the positive argument should be how on earth can we fill Cardiff City Stadium?"