Nathan Pedley prepares for his final match for Redruth
By Brent Pilnick
BBC Sport
Last updated on .From the section Rugby Union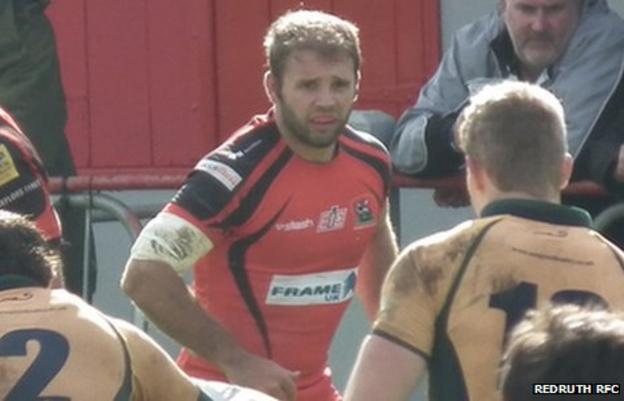 Nathan Pedley's career at Redruth will draw to a close on Saturday after 174 games and 10 years.
The 28-year-old winger, who burst onto the Redruth scene back in December 2001, is emigrating to Australia.
He made an impact right from the start, scoring two tries as an 18-year-old in his first game against Old Colfeians in the old National Three South.
Within three matches he had also played against Cornish rivals Launceston and Penzance.
"It was exciting, scary. I was a boy playing in man's game," Pedley told BBC Radio Cornwall.
"It was just after my 18th birthday. It was amazing really to have two tries, and to be given man of the match was a brilliant feeling.
"And to play against Launceston and to play against Pirates down there as well, in my first three games in men's rugby, was a big thing then because the Pirates and Launceston were doing really well that season."
Redruth's director of rugby, Dave Penberthy, still recalls the day Pedley first came to the Rec as a child.
"I remember him joining the club as a five-year-old, I've seen him come through and whenever Peds plays he brings so much to the team.
"The biggest tribute I can pay to Peds is that he epitomises everything that I would look for in a player that wants to play for the shirt and for the club. He's been an a star all the way through."
Pedley's finest time at Redruth came in the 2004-05 season where he set a then club record of 19 regular-season tries and formed a 'dynamic duo' with fellow winger Lewis Vinnicombe as the Reds won promotion to the old National Two division.
They beat Macclesfield in the play-off final at the Rec, where he scored his final try of the season, as Redruth won 33-14 and began a run in English rugby's third tier which only ended with .
"We had an amazing season that year," Pedley recalled.
"We brought some big players in. The whole team gelled really well and to get into the play-off against Macclesfield and to have a home draw was an amazing thing.
"That day I remember running out onto the pitch and everyone had horns or whatever they had to make a noise.
"Even watching the DVD now I still get hairs standing up on the back of my neck, it was a great day."
Pedley's record only stood for two years as Mark Bright scored 21 tries in the 2006-07 season to overtake his mark.
But he will be a proud man when he leads Redruth out in his final match against high-flying Worthing on Saturday in what Dave Penberthy believes will be a memorable match in the club's history.
"He's always been a crowd favourite and I know he's a very emotional boy as well and we had a few tears last Saturday being his last away game.
"I'm sure it's going to be full of emotion on Saturday and it's down to the boys to really pull a top performance out of the bag and at least allow him to remember his last game at the club at home," Penberthy said.
Pedley will take up a new challenge as he leaves Cornwall to move to Australia with his fiance and son to be closer to other members of his family.
"For me to have such a long career at Redruth Rugby Club has been absolutely amazing and I'm thankful for the club keeping me there for as long as they did.
"To have my last game at home in front of all the crowd with all my family there will be amazing and it'll be nice to lead the team out for once."
He added: "My employer over there is a rugby coach so I may get drawn back into it.
"But my plan is at the moment to retire on Saturday and enjoy family life, do a bit of fishing and get back to spending time with my family."