New chief Richard Holland wants improved Cardiff Blues crowds
Last updated on .From the section Rugby Union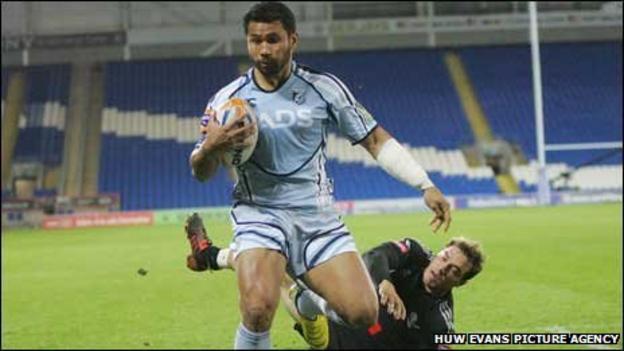 Richard Holland has admitted improving Cardiff Blues' poor attendances will be among his top priorities when he begins his role as their new chief executive.
Just 4,557 fans watched Cardiff beat Aironi in their last home game, their second lowest gate since April 2007.
"I'm looking forward to developing that side of the business," said Holland.
"I'll take time when I start the role to have a view on things such as attendances and hospitality, which it is obviously high up my list of priorities when I start.
"I'm looking forward to developing that side of the business and using my experience and skills to bring that to the table when I start with the Blues.
"We've done lots of creative things for Chepstow Racecourse to drive admission and hospitality and I hope to roll out similar strategies and ideas at the Blues.
"I know the region, I know how marketing works and I know how the commercial market works."
The Blues have attracted an average crowd of 6,723 in their six games at their Cardiff City Stadium home this season, a ground that can hold a crowd of almost 27,000 supporters.
The Blues are tenants of Cardiff City Football Club and fans have struggled to accept their new ground after the region left their former Arms Park home.
But Holland, the 38-year-old who had also been vice-president of corporate relations and sales at the Celtic Manor hotel in Newport, hopes to use his marketing and sales background to improve their attendances and increase revenue.
"I'm a commercial and marketing man who loves the sport," said Holland.
"And I'm keen to grow all aspects of the business."