Ex-rugby star Jason Robinson reveals depression battle
Last updated on .From the section Rugby Union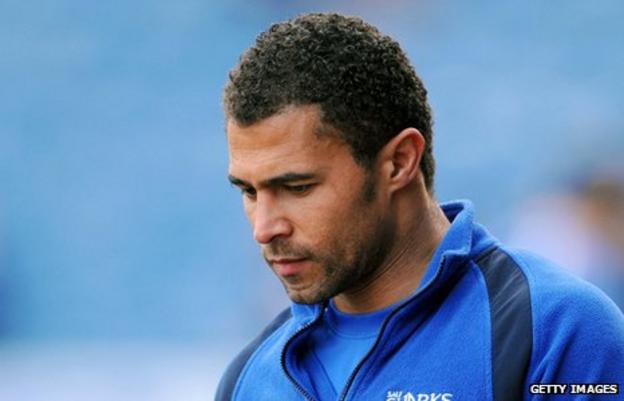 Former dual-code England rugby international Jason Robinson has revealed his battle with depression that saw him turn to Christianity.
The 37-year-old said his lowest point was while he was at league side Wigan.
"I was playing so well at the time I had some money in my pocket, I had all the things that I thought would be the answer," he told BBC Radio Manchester.
"Off the field, my life was in such a mess. I was so lonely. I contemplated doing silly things."
Born in Leeds, Robinson began his career at Hunslet before moving to Wigan in 1992.
He excelled in the north-west, winning the World Club Challenge twice, the Championship five times, the Challenge Cup four times, the Regal Trophy three times and the Charity Shield twice.
It was during his time at Wigan that his friendship with former All Black winger Va'aiga Tuigamala set him on the path to finding religion.
"Meeting him I was so envious. I looked at him and I thought 'I want what you've got'," Robinson recalled.
"Why are you coming here smiling from ear to ear? Why are you so happy? Why have you got this peace?
"You're enjoying your rugby. It doesn't matter what car you've got in the car park, you'll talk to every Tom, Dick and Harry - and people loved him for it.
"He never pushed anything on anybody and that's why it made an impact. He lived his life in such a way that spoke volumes."
Robinson switched codes to rugby union in 2000, joining Sale Sharks.
He quickly became a regular in the England set-up, scoring a memorable try to as they beat Australia 20-17 in the 2003 World Cup final.
He retired from international rugby in 2005 before being persuaded to come back by Brian Ashton in 2007, helping England reach the World Cup final against South Africa before retiring from rugby all together.
Robinson had a 14-month stint coaching at Sale before coming out of retirement to work with Ashton again, spending a season at Fylde in National League Division Two North last year.
Despite such a successful playing career, the former winger and full-back said he often felt isolated and alone during his worst moments of feeling down.
"When you get low enough and you haven't go support around you, it's amazing how your mind will go," he added.
"They are wrong thoughts because there is always an answer. Now I know there is an answer, there is a way out, things can change.
"But back then when you feel like the walls are closing in and you've got no-one to talk to.
"Well, you've got millions of people you could talk to but you haven't really got somebody you can just open up and share your heart with."
Jason Robinson is 'In the Spotlight' on BBC Radio Manchester on Thursday, 15 December. You can listen again via the iPlayer or download the podcast.