IRB announce an unnamed player failed a World Cup drugs test
Last updated on .From the section Rugby Union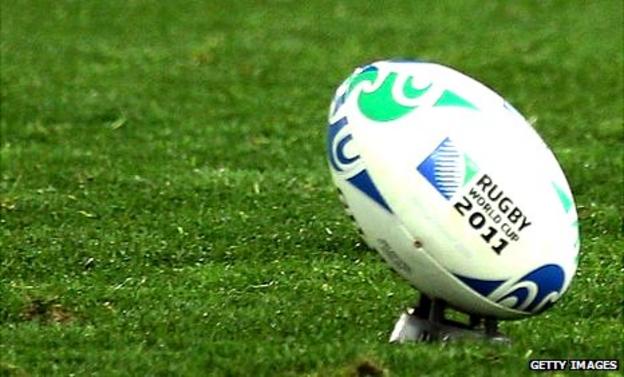 An unnamed player failed a drugs test during the Rugby World Cup, the International Rugby Board has revealed.
The player's identity has been withheld but the IRB confirmed he plays for a nation that failed to qualify for the quarter-finals of the competition.
The positive test was returned following a match in the final round of the pool phase.
A statement from the IRB said: "The player is provisionally suspended until the outcome of a hearing."
The IRB collected 76 blood samples and 216 urine samples during the World Cup.
IRB anti-doping manager Tim Ricketts said: "The player and his union (who exited the tournament after the pool phase) have been informed of the finding.
"Due to confidentiality provisions no further information can be released until the case is heard and a decision made."
All 20 teams were subjected to "an extensive programme" of testing before the tournament began that included urine and blood controls to screen for banned substances including EPO and Human Growth Hormone (hGH).
Japan's Ryohei Yamanaka tested positive for methyltestosterone, which was contained in cream he used to assist the growth of his moustache, and he was banned for two years.
Russian player Evgeny Pronenko was banned for six months after testing positive for Furosemide, a diuretic.
Ricketts continued: "The IRB and its member unions operate a zero-tolerance policy towards doping in rugby and this comprehensive testing programme administered across the 20 teams both before and during the tournament underscores our collaborative commitment in this pivotal area of the game.
"The one adverse finding also demonstrates that education is key, even for painkillers, and we will continue to work in partnership with our member unions to ensure that players, coaches and medical staff have access to the best possible educational resources and take greater responsibility for what they consume and administer."