Newcastle prop Grant Shiells matched Carl Hayman - Tait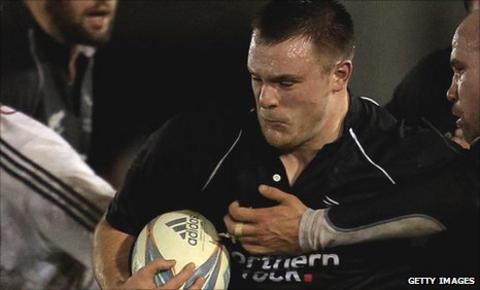 Newcastle head coach Alan Tait has praised Grant Shiells after the prop matched former All Blacks international Carl Hayman in the 6-3 win over Toulon.
Shiells, 22, went head-to-head with his former Falcons mentor for 68 minutes, before making way for Ashley Wells.
"Against Carl Hayman he was outstanding," Tait told BBC Newcastle.
"It would have been nice for him to finish off with the man of the match, he didn't, and he will keep going until he gets one."
Tait signed Shiells from borders club Kelso in the summer of 2009.
After a quiet start, making just five appearances in his maiden season at Kingston Park, he went on to make 29 outings last term, and 13 so far this campaign.
"Paul [Moriarty - assistant coach] is at him all the time," Tait said.
"He wants him to carry more, be more aggressive and get the tackle count up and he's done everything asked of him tonight."
Another of the emerging talents to catch Tait's eye in the Falcons first team was James Fitzpatrick.
The South Shields-born centre, 25, played his third successive 80 minutes of rugby in the win against Toulon to take his tally of appearances to eight for the season.
"We know how hard the Premiership is and it's difficult for a coach because you want to win to keep your job, so you look for experience," Tait said.
"But I've gone with Fitzy. I brought him in from Blaydon and I back him all the way.
"He can be a real threat. Who knows in six months' time or a year he might get what he deserves, to go up the ladder, get England Saxons recognition, you just don't know.
"If he keeps improving the way he is he's going to become a good player."