Redruth beat Worthing 37-22 in Nathan Pedley's last game
Last updated on .From the section Rugby Union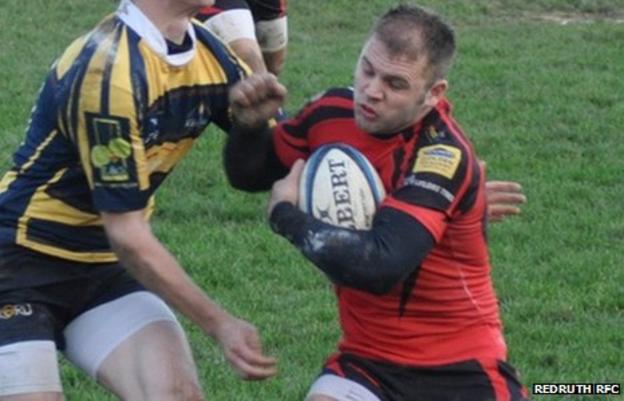 Redruth gave winger Nathan Pedley a fitting end to his 10-year career at the Rec with a 37-22 win over high-flying Worthing in National Two South.
Aaron Penberthy kicked four penalties and converted Tom Cooper's try to give the Reds a 19-14 halt-time lead.
Chris Fuca crossed the line twice for Redruth in the second half while Penberthy also scored a try and kicked another penalty to seal the win.
"It was an absolutely amazing day here at the Rec," Pedley told BBC Cornwall.
"To come here on my last game in front of a big home crowd and beat top of the table contenders with a great game like that is absolutely amazing," he added.
Pedley, 28, is emigrating to Australia with his fiancée and young son after 10 years at Redruth and said he would never forget his final match at the Rec.
"It's days like this that I'll remember for the rest of my life.
"Every year I've been here I've enjoyed every minute and I'm just glad the club kept me here for as long as they did.
"All the boys played absolutely out of their skins today for me," he said.
"They said before the game they were going to play for me, the same as last week, and two great performances, one away, one at home, two great games and two victories to send me off with."
And Redruth director of rugby, Dave Penberthy, was happy with the result.
"We said we wanted to do it for Peds, he said he was going to give his everything and it just worked out that way so we're very pleased.
"Four games - 20 points, I can't ask for more than that but I'm absolutely delighted."