Lewis Moody leads tributes to retiring Jonny Wilkinson
By Jefferson Lake
BBC Sport
Last updated on .From the section Rugby Union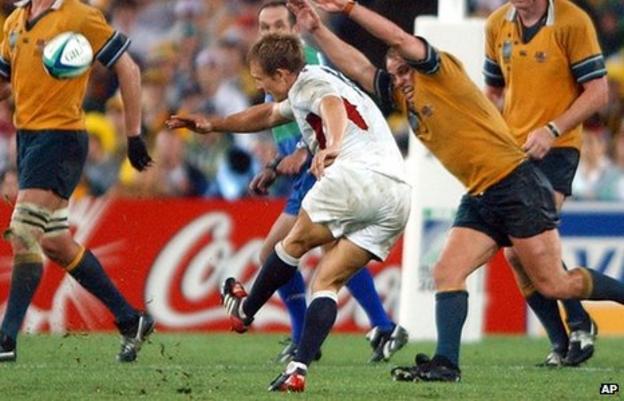 Former England captain Lewis Moody hailed the professionalism of Jonny Wilkinson after his retirement from international rugby.
The 32-year-old won 91 England caps and famously kicked the winning drop-goal in the 2003 World Cup final.
Moody, who captained Wilkinson in the recent World Cup in New Zealand, paid tribute to England's top points-scorer.
"Jonny is one of the most professional individuals I have ever worked with," Moody told BBC Radio 5 live.
"He put everything into what he did, it was incredible to watch him."
Wilkinson will be best remembered for his drop goal that won the World Cup for England in 2003, but Moody was also a big admirer of the fly-half's ferocious tackling and calmness on the field.
"It's a real shame he's decided to retire, but what he's given to English rugby is immense," added Moody.
"He was ferocious in the tackle, it was one of the things that made him so special at fly-half.
"He brought his own mark to the fly-half role, and he dedicated himself to being the best he could be.
"It was inspiring to train with him, he was a very controlled player, a calming influence on the pitch - I was privileged to play on the same pitch as him."
Moody's views were echoed by several others within the rugby world.
ENGLAND WINGER MARK CUETO
"The more he achieved, the harder he worked, and that's an unbelievable attribute to have.
"He was an unbelievable player. The dedication and work-rate he had on and off the field were unbelievable, and that made him what he was.
"To continue that after the successes of 2003 in particular, and to stay so humble and grounded, is a massive achievement.
"He had that aura of reliability around him. He was probably one of the best - if not the best - defensive 10s in the world ever."
FORMER ENGLAND SCRUM-HALF MATT DAWSON
"I'm not surprised I think the way that Jonny Wilkinson is, he's a class act, he's a gentleman and I don't think he was ever going to announce it near a World Cup, during it or straight after a World Cup," he told BBC Radio 5live.
"I'm sure that decision was made some time ago but it's right, he's a class act and I think he has done it in the right way.
"It's a shame though that he feels so sad because that says to me that maybe he has a few regrets which he should have."
ENGLAND CENTRE MIKE TINDALL
"Wilko, what a legend. It has been an honour and a privilege to play with and against him for the last 16 years."
RFU PROFESSIONAL RUGBY DIRECTOR ROB ANDREW
"A lot of people have played their part, especially his family, who have supported him through lots of downs and tough times," he told BBC Radio 5live.
"He has had plenty of times where things haven't gone well and he has been injured but he wanted to be the best player he could be, and he turned out to be the best fly-half England have ever had."
FORMER ENGLAND FLANKER RICHARD HILL
"Of course Jonny is one of the all-time greats and I truly enjoyed every minute playing alongside him for England and the Lions.
"He was quite phenomenal at goal kicking under pressure and showed amazing composure on the very biggest occasions."
FORMER ENGLAND SCRUM-HALF KYRAN BRACKEN
"I believe he has many years left if he wanted to," he told BBC Radio 5live.
"I imagine the new regime might want to do without him for a while...but I think he has three or four years ahead of him, enjoying himself in France.
"I wouldn't be surprised if, come the next World Cup, a phone call comes in for him. I wouldn't be surprised if Jonny Wilkinson put on an England shirt again."
TOULON AND FORMER FRANCE COACH BERNARD LAPORTE
"Having spoken to him about it, I know that he was very disappointed about the last World Cup.
"He's 32 - what's the point in him playing the next Six Nations tournament if he's not going to play in the next World Cup? He had everything to lose. It's a wise decision."
FORMER ENGLAND WINGER RORY UNDERWOOD
"I think he was the best fly-half England ever had. He was certainly the best kicker we've ever had," he told BBC Sport.
"Some would argue his distribution play was not as good as it could have been but he was still very good at that and he played in an exceptionally good side that won the World Cup.
"Everyone remembers his metronomic kicking, his exceptional percentage strike rate and the image that everyone will always have of him is that right-footed drop kick to win the World Cup."
BBC SPORT'S IAIN ROBERTSON
"It is the right time to retire, it was on the cards anyway. We all knew it was the end, we were just waiting for this announcement.
"I would rank him as arguably one of the best two or three goalkickers in England's rugby history.
"He was a tremendous tackler, an outstanding defensive player, who was whole-hearted beyond belief.
"He did everything right and is the complete role model."
RUGBY PLAYERS' ASSOCIATION CEO DAMIAN HOPLEY
"Jonny Wilkinson redefined the standards for rugby players in his extraordinary international playing career.
"He has been one of the consistently outstanding world class athletes of his generation and you could not wish to meet a better role model.
"His capacity for hard work, continual improvement and dedication has left a lasting legacy by which future players will be judged.
"On behalf of every RPA member, I would like to thank Jonny for everything he has done for rugby in England and we all wish him continued success for the remainder of his playing days in Toulon."