Bristol captain Iain Grieve targets Bedford injury return
Last updated on .From the section Rugby Union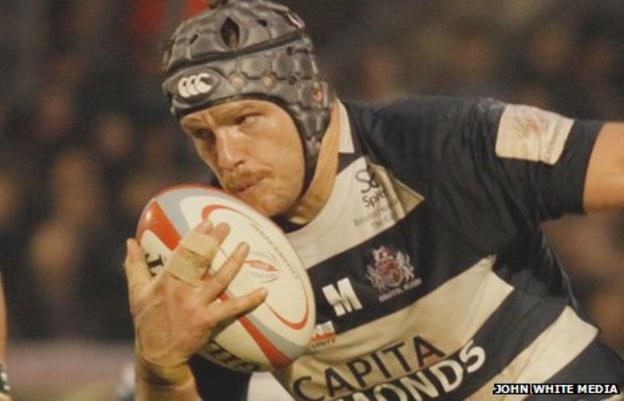 Bristol's Iain Grieve is hoping to return to action in just two weeks after it was revealed his leg injury was not as serious as first thought.
The 24-year-old was stretchered off after an off-the-ball tackle in their 23-3 win over Plymouth on Saturday.
It was initially thought the flanker had fractured his femur but X-rays showed severe bruising but no break.
"I'd love to be available as the Bedford-Bristol clash is always a good one," he told BBC Radio Bristol.
"They're going to come up here wanting to prove a point so fingers crossed I'll be fit by then. If not I'm going to support the team as much as I can and do my bit to help them out."
Grieve was treated on the field for 11 minutes after the crunching tackle towards the end of the game and had he broken the bone in his leg, he could have been ruled out for the rest of the season.
"We had the line-out and we went through our phase play as normal," he continued. "I've run a line and the player's just spotted me and put a good hit on me.
"I have no idea if it was malicious or not. He's just done his job and you've got to say fair play to him.
"Luckily we had the penalty from it but I wasn't too happy about the injury. The guys winning is a positive thing to take away.
"Obviously after what people were saying it was going through my head that I'd miss the season.
"Once we had the results and it showed it wasn't too serious I was happy. If I could have jumped for joy then I would have done."