Exeter Chiefs boss Rob Baxter pays tribute to coaching team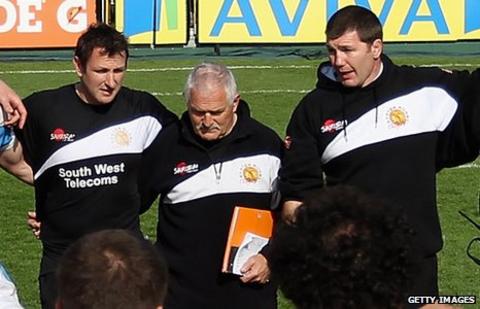 Exeter Chiefs head coach Rob Baxter has paid tribute to his coaching team after signing a new contract at the club.
Baxter, along with assistant Ali Hepher, skills coach Ricky Pellow, academy boss Rob Gibson and team manager Robin Cowling have signed new deals until the summer of 2015.
"The thing that pleases me the most is those other guys are here and committed to the club as well," Baxter said.
"The work that Robin, Ricky and Ali have done has been fantastic."
The Chiefs boss also said that the work the team are doing behind the scenes is one of the main reasons for Exeter's success.
The side lie third in the Premiership and are top of their Amlin Challenge Cup group.
"We're a team that's developing and moving forward," Baxter continued.
"We really are actively working very hard to get better, anyone that watches the players can see that these guys are working hard and are introducing things all the time," he told BBC Radio Devon.
And Baxter said the new deal means he will have the continuity to keep building the squad at Sandy Park.
"For me it's just a great opportunity to push forward with the way I see the team going for the next couple of years with recruitment and how we want to drive the squad forward."