World Cup winner Ali Williams renews Nottingham links
Last updated on .From the section Rugby Union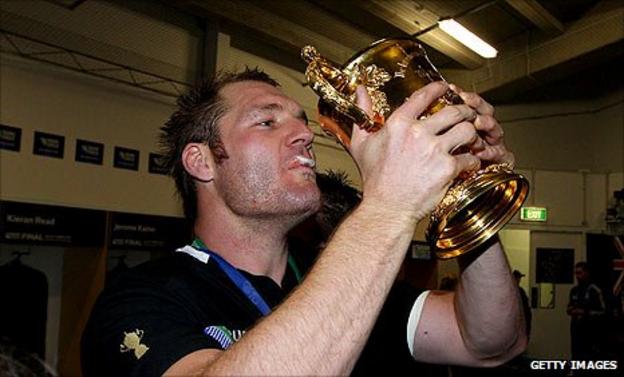 World Cup winner Ali Williams says his appointment as a board member at Nottingham could lead to a second stint as a player with the Championship side.
Williams, 30, played four games for the Green & Whites at the start of the year and has re-joined to work on the board of directors in an advisory role.
But the 73-times capped All Black may once again grace Meadow Lane as a player.
"I haven't ruled it out," Williams told BBC Radio Nottingham. "I am contracted to New Zealand for 2012 and then from there we will see what happens."
The lock, part of the New Zealand side which won the Webb Ellis Cup on home soil in October, was initially tempted by the prospect of using his off-pitch expertise to help ambitious Nottingham into the Premiership.
And the dual challenge of taking Nottingham into the top flight on the pitch is something that may also appeal.
"I thoroughly enjoyed my time when I was playing there. Now the relationship has grown to be on the board where I can help off the field," Williams said.
"If the future points my in that direction [playing] then I can help on the field, so we'll see it how it goes."
Williams said his brief stay in Nottingham last year played a huge part in helping him regain fitness and the mental strength needed to win back his place in New Zealand's World Cup squad.
And his relationship with director of rugby, and fellow Kiwi, Glenn Delaney convinced him to renew his relationship with the club.
"I thoroughly enjoyed myself, not only on the field as a player but just looking at how the club works and the opportunities it has got," Williams added.
"Glenn and I became quite good friends and from there he mentioned there was a possibility I could still continue helping the club. That's what this is and I'm looking forward to it.
"It is pretty weird really. It's a bit different but I am a little different too so I suppose it works.
"I envisage passing on my knowledge with things I have been involved with in rugby and we can help Nottingham get the following it needs and wants. And we can also help the club reach its desired results and make the Premiership and be really competitive up there as well.
"I'm excited and I know they can help me as well. Rugby doesn't last forever so it's a win-win situation for the both of us.
"Obviously I am limited to what I can do here due to playing commitments but there are intentions of coming over and spending some time in Nottingham.
"It will be limited to start with but it can build and who knows I could be in the Green & White again."
The club and Williams, who spent nearly two years sidelined with career-threatening Achilles tendon injuries before his spell in Nottingham, are also keen to make the most of the player's standing and links in his homeland.
"The reason why I am comfortable in doing that is I like the style of rugby they play and that fits in with the type of guys playing rugby back home," Williams explained.
"This does not mean I will become some sort of slimy agent feeding players to Nottingham but I believe it is a great club that can grow players on the field."
Director of rugby Glenn Delaney said: "Ali is a fantastic player with years of experience at the very top of world rugby.
"We had a great win against second-place London Welsh last week, but we can't stand still and will have to continue to improve if we want to challenge for a place in the Premiership. Ali's appointment will help us do just that."
Chairman Alistair Bow added: "We are delighted. Ali was a great asset to the club when he was with us as a player, and I have no doubt he'll prove just as influential as a board director."