Mike Phillips uncertain of Bayonne stance over Wales duty
Last updated on .From the section Rugby Union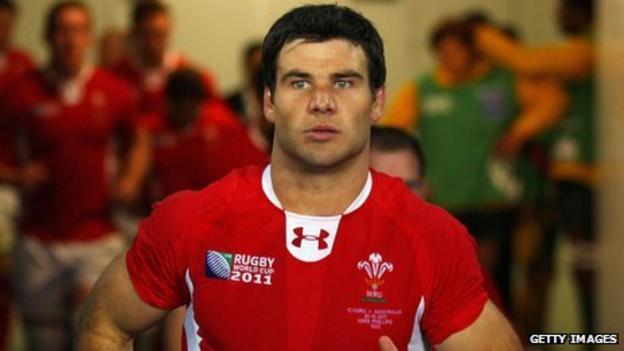 Mike Phillips says his contract with Bayonne does have a release clause to play for Wales but admits a regime change there has caused uncertainty.
But a poor start to Bayonne's season saw Gajan replaced by Jean-Pierre Elissalde.
"I am a bit uncertain, but it [release for Wales games] is written in my contract," Phillips said.
"But we're in a bit of a dog-fight in the league, we've got a massive game now next week [at home to Castres on 23 December]. Do well and we can climb the table a bit and ease the pressure."
Gajan was replaced after Bayonne won just four of their first 12 Top 14 games of the season.
"He was one of the reasons why I signed. Christian Gajan... he's a good guy, I had an instant gut instinct that it was a good thing - a lot like when I met [former Cardiff Blues boss] Dai Young for the first time," Phillips added.
Despite the release clause for Wales that Phillips says is in his contract, the 28-year-old British and Irish Lion was not available for the 3 December game against Australia, which was not in an official International Rugby Board window for Tests.
Phillips started every game for Wales during the World Cup except for the pool game against minnows Namibia.
"It was [tough missing the Test]. As well, looking back on it, because I got to Bayonne quite late it's not nice to just come and go," Phillips said.
"I'm part of a new group of people now and you feel that you want to work for them, they're good enough to give you a job and you want to prove to them that you're a good quality player.
"So I've just tried to take the positives from it really, but it was great to see Shane [Williams, who retired after that game] scoring that try and the boys playing well - but at the same time it was very difficult for me."