Ex-Ospreys coach Lyn Jones against central contracts
Last updated on .From the section Rugby Union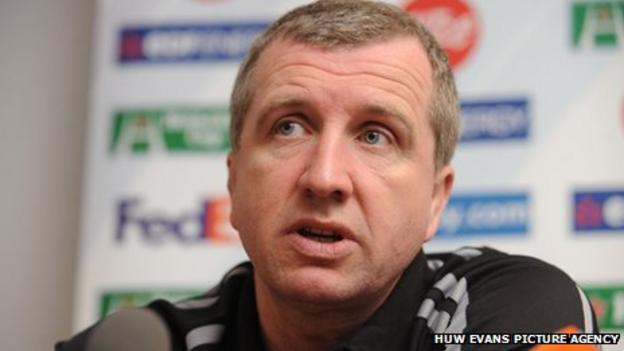 Ex-Ospreys coach Lyn Jones believes central contracts are not practical in Welsh rugby to prevent players leaving for France.
Jones says Welsh rugby would be forced to reduce to three regions if contracts were introduced.
Wales have lost Mike Phillips, Lee Byrne and James Hook to France, and Luke Charteris is set to leave.
"It [central contracts] is the answer, but I don't think we can actually get there," said Jones.
"When the game went professional in '95 it was an open market and the governing body failed to take control. Nobody knew what was going on.
"We have benefactors who put a huge amount of money in to keep the professional game afloat.
"If the game were centrally contracted in Wales I think the first thing that would happen that we would have to go down to three regions to afford that.
"The expertise that goes with it I don't think the union has. You are opening up a can of worms."
Jones, currently coach at London Welsh, insists that there is enough talent coming through the grassroots to replace players who sign for foreign clubs.
Charteris will leave the Dragons at the end of the season and the Ospreys fear they could lose Adam Jones to a big money French club.
"Luke Charteris or Adam Jones. If they go, they go," added Jones.
"There is another Luke Charteris up the valley. Just go look for him, get him involved and give him chances and they'll perform.
"There's a lot of good kids out there. Give them an opportunity because someone has got to come through and play for Wales.
"You are always going to lose players and Adam is no different . He was always going to be targeted by many clubs and I'm sure if an offer came along that was quite large then Adam would take.
"You've got to plan ahead. You are going to lose players along the way. Be prepared for it and just make sure the next ones come through and don't complain too much. That's what they do in New Zealand.
"There is a lot of investment in young players but unfortunately they don't get enough playing time. You have got to find the balance.
"The Scarlets have just shown and the Ospreys before them there is a lot of talent. Just give them [young players] an opportunity to play."
Jones believes that the WRU and coach Warren Gatland cannot do anthing about the top players leaving.
"There's a resolve not to pick players who go outside Wales but that was never going to be realistic," he said.