Mayhew brothers pen extended Newcastle Falcons deals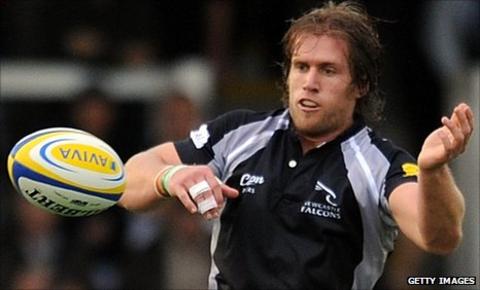 Newcastle Falcons have handed two-and-a-half-year contract extensions to brothers Michael and Richard Mayhew, keeping them until 2014.
Michael, 24, and Richard, 25, have impressed head coach Alan Tait, making 13 and eight appearances for the Falcons respectively.
"I am delighted that Michael has decided to re-sign," Tait said.
"Richard has extended his deal to match his brother's. This is the time of the year when we are looking to build."
Tait added: "We are talking to players and agents.
"Hopefully this is the start of some more lads coming into the club.
"We are looking to strengthen the squad and there are also about 12 players we are looking to re-sign so hopefully we will get them to commit."
Back-row forward Richard, the elder of the pair and the first to sign with Falcons from Esher in April, was joined by Michael in September.
The pair were both on short-term deals that were set to expire.
"We have got a great coaching set-up here at the Falcons and with the recent investment we have the best off-field support I have experienced as a player with the new medical suite, analysis room, gym and training facilities at Kingston Park," Richard said.
"I have really enjoyed my time so far in Newcastle and there are some exciting times to look forward to.
"I was not sure what to expect when I came over but I have really enjoyed the North East and the supporters are really passionate."